Harlan County Agency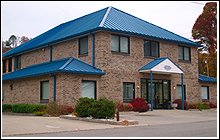 Small town service with a Big on Commitment attitude describes the staff at the Harlan County office of Kentucky Farm Bureau Insurance. Our team includes four agents and six highly trained Customer Service Representatives, committed to offering our members the very best level of service. We have a long tradition of serving the people of Harlan County as trusted advisors and friends. Put our Harlan County Team to work for you!
Meet Our Insurance Agents
How can the Harlan County Agency help you today?
Life's Blueprints: A KFB Insurance Blog
For millions of working Americans, employer-provided life insurance is a valuable perk. However, it may not provide enough coverage for your loved ones after you're gone. Check out this article for information on when it may be necessary to purchase additional coverage.
Do you ever wonder how your loved ones would fare should something ever happen to you? If someone depends on you financially, life insurance is a topic you shouldn't avoid.
If you are involved in an auto accident, first and foremost, tend to the safety of everyone involved.