Harlan County Agency
Our Harlan County Agency is Ready to Meet All Your Insurance Needs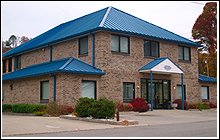 Small town service with a Big on Commitment attitude describes the staff at the Harlan County office of Kentucky Farm Bureau Insurance. Our team includes four agents and six highly trained Customer Service Representatives, committed to offering our members the very best level of service. We have a long tradition of serving the people of Harlan County as trusted advisors and friends. Put our Harlan County Team to work for you!
Meet Our Insurance Agents
How can the Harlan County Agency help you today?
Life's Blueprints: A KFB Insurance Blog
Do you know who would be financially responsible for your belongings if your apartment caught on fire or was broken into? If you think that your landlord is on the hook for your stuff in the event of a catastrophe — think again.
In 2019, 52 children across the United States died from heatstroke in unattended cars.
We're all for enjoying Kentucky's beautiful sights via four-wheeler, but practice these tips to help keep ATV injuries and fatalities down in 2020.