Harlan County Agency
Our Harlan County Agency is Ready to Meet All Your Insurance Needs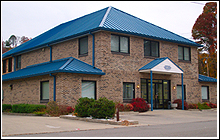 Small town service with a Big on Commitment attitude describes the staff at the Harlan County office of Kentucky Farm Bureau Insurance. Our team includes four agents and six highly trained Customer Service Representatives, committed to offering our members the very best level of service. We have a long tradition of serving the people of Harlan County as trusted advisors and friends. Put our Harlan County Team to work for you!
Meet Our Insurance Agents
How can the Harlan County Agency help you today?
KFB Spotlight
October 24, 2016

After a slight increase in food prices was experienced during the second quarter of 2016, third quarter results returned to declines.
October 19, 2016

Agriculture Commissioner Ryan Quarles encourages Kentucky school children to celebrate Farm to School Month in October and throughout the year.
October 18, 2016

The Office of Veterans Business Development recognized Patricia Krausman, director of the Elizabethtown Small Business Development Center, as one of the six most outstanding instructors for the 2016 Boots 2 Business program.