Harlan County Agency
Our Harlan County Agency is Ready to Meet All Your Insurance Needs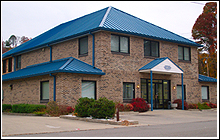 Small town service with a Big on Commitment attitude describes the staff at the Harlan County office of Kentucky Farm Bureau Insurance. Our team includes four agents and six highly trained Customer Service Representatives, committed to offering our members the very best level of service. We have a long tradition of serving the people of Harlan County as trusted advisors and friends. Put our Harlan County Team to work for you!
Meet Our Insurance Agents
How can the Harlan County Agency help you today?
Life's Blueprints: A KFB Insurance Blog
It's harvest time in the Bluegrass State! That means Kentucky drivers are pretty likely to encounter slow-moving farm equipment on the roadways.
Nearly 1 out of every 15 homes in the U.S. is estimated to have elevated radon levels, according to the EPA.
Citizens can choose between standard or travel credential; all cards will arrive in mail