Harlan County Agency
Our Harlan County Agency is Ready to Meet All Your Insurance Needs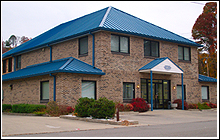 Small town service with a Big on Commitment attitude describes the staff at the Harlan County office of Kentucky Farm Bureau Insurance. Our team includes four agents and six highly trained Customer Service Representatives, committed to offering our members the very best level of service. We have a long tradition of serving the people of Harlan County as trusted advisors and friends. Put our Harlan County Team to work for you!
Meet Our Insurance Agents
How can the Harlan County Agency help you today?
KFB Spotlight
KFB Candid Conversations: Kentucky is set to lead research efforts with Grain & Forage Center of Excellence

September 20, 2016

KFB Candid Conversations presents a discussion about the University of Kentucky Grain & Forage Center of Excellence.
September 12, 2016
August 31, 2016

The Water Management Working Group has initiated many forward steps in opening up critical conversations about water issues.