Harlan County Agency
Our Harlan County Agency is Ready to Meet All Your Insurance Needs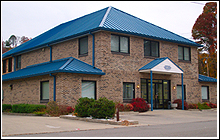 Small town service with a Big on Commitment attitude describes the staff at the Harlan County office of Kentucky Farm Bureau Insurance. Our team includes four agents and six highly trained Customer Service Representatives, committed to offering our members the very best level of service. We have a long tradition of serving the people of Harlan County as trusted advisors and friends. Put our Harlan County Team to work for you!
Meet Our Insurance Agents
How can the Harlan County Agency help you today?
KFB Spotlight
May 20, 2016

The U.S. Department of Agriculture (USDA) announced in April the 2015 Local Food Marketing Practices Survey as part of its continued support of local and regional food systems.
May 18, 2016

Many homeowners impacted by the series of strong storms that have swept through Kentucky this month are now in need of contractors to repair damaged homes or clean up fallen debris.
May 11, 2016

Candidates for the 1st District Congressional race responded to policy questions on KFB Priority Issues.