Harlan County Agency
Our Harlan County Agency is Ready to Meet All Your Insurance Needs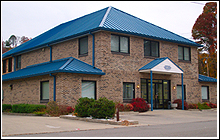 Small town service with a Big on Commitment attitude describes the staff at the Harlan County office of Kentucky Farm Bureau Insurance. Our team includes four agents and six highly trained Customer Service Representatives, committed to offering our members the very best level of service. We have a long tradition of serving the people of Harlan County as trusted advisors and friends. Put our Harlan County Team to work for you!
Meet Our Insurance Agents
How can the Harlan County Agency help you today?
Life's Blueprints: A KFB Insurance Blog
Our state's karst topography puts us at the top of the list for potential sinkhole development
Floods are the nation's most common and costly natural disaster, producing millions of dollars of destruction every year, according to the National Flood Insurance Program.
Storms can loosen and rip apart materials built with asbestos, launching these invisible cancer-causing particles into the air we breathe.