Harlan County Agency
Our Harlan County Agency is Ready to Meet All Your Insurance Needs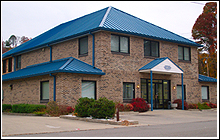 Small town service with a Big on Commitment attitude describes the staff at the Harlan County office of Kentucky Farm Bureau Insurance. Our team includes four agents and six highly trained Customer Service Representatives, committed to offering our members the very best level of service. We have a long tradition of serving the people of Harlan County as trusted advisors and friends. Put our Harlan County Team to work for you!
Meet Our Insurance Agents
How can the Harlan County Agency help you today?
KFB Spotlight
April 20, 2016
April 19, 2016

The Kentucky Farm Bureau Communications Award recognizes and honors the outstanding efforts of a professional journalist whose recent work has contributed to a better public understanding and appreciation of the people, communities and issues connected to Kentucky agriculture.