Harlan County Agency
Our Harlan County Agency is Ready to Meet All Your Insurance Needs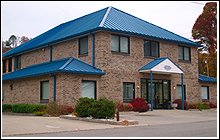 Small town service with a Big on Commitment attitude describes the staff at the Harlan County office of Kentucky Farm Bureau Insurance. Our team includes four agents and six highly trained Customer Service Representatives, committed to offering our members the very best level of service. We have a long tradition of serving the people of Harlan County as trusted advisors and friends. Put our Harlan County Team to work for you!
Meet Our Insurance Agents
How can the Harlan County Agency help you today?
Life's Blueprints: A KFB Insurance Blog
According to the Insurance Information Institute (III), approximately 75,000 people are seriously injured each year when mowing their lawn.
If you are involved in an auto accident, first and foremost, tend to the safety of everyone involved.
Drones come in all shapes and sizes and range anywhere from a $50 toy to a multi-million dollar military tool. While there are hundreds of uses for drones, read on for some of the main ones.