Harlan County Agency
Our Harlan County Agency is Ready to Meet All Your Insurance Needs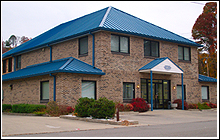 Small town service with a Big on Commitment attitude describes the staff at the Harlan County office of Kentucky Farm Bureau Insurance. Our team includes four agents and six highly trained Customer Service Representatives, committed to offering our members the very best level of service. We have a long tradition of serving the people of Harlan County as trusted advisors and friends. Put our Harlan County Team to work for you!
Meet Our Insurance Agents
How can the Harlan County Agency help you today?
Life's Blueprints: A KFB Insurance Blog
Did you know that 49% of people said they would take photos or watch videos while driving through a parking lot, according to a National Safety Council survey?
During the holiday season, emergency rooms nationwide are flooded with victims of holiday decor gone wrong.
Avoid a tree tragedy this holiday season! From 2010 to 2014, Christmas trees caused an average of 210 home fires, resulting in six deaths, 16 injuries, and $16.2 million in direct property damage annually.