Community Commitment
At KFB, we take great pride in supporting our state.
As an organization specifically built to serve others, giving back to the communities we call home comes naturally to Kentucky Farm Bureau (KFB). The KFB Federation works as "The Voice of Kentucky Agriculture" to identify problems, develop solutions, promote economic success, and enhance the quality of life for all in the Bluegrass State, while the KFB Insurance Company helps to protect and insure our members with an unmatched level of dedication and service, living out our company tagline of being Big on Commitment.
In 2022, more than 40 organizations benefited from our sponsorships, service hours, and philanthropic contributions, including: Alzheimer's Association, American Heart Association, American Red Cross (KY), Feeding Kentucky, Fellowship of Christian Athletes, Friend for Life Cancer Support Network, Glean Kentucky, Home of the Innocents, Kentucky 4-H Foundation, Kentucky FFA Foundation, Kentucky Humane Society, Kentucky Hunters for the Hungry, Kentucky State Police Foundation, Kentucky Women in Agriculture, Miss Kentucky Scholarship Foundation, National Kidney Foundation, USA Cares, and many more!
To learn more about KFB's Community Commitment, click on the categories below.
KFB's Signature Events
While KFB is a consistent contributor to many worthwhile causes and organizations around the state, we also host large-scale, philanthropic-oriented events of our own. Through these events, we have helped raise tens of millions of dollars for local non-profit organizations and causes.
Clays for a Cause
Clays for a Cause is a charitable sporting clays event produced and underwritten by Kentucky Farm Bureau Mutual Insurance Company. Every dollar raised from the event is donated to local charitable organizations supported by KFB, primarily focusing on efforts to curb food insecurity in our state. Since the event's launch in 2019, Clays for a Cause has generated more than $1.35 million for charity, benefitting organizations like Feeding Kentucky, Glean Kentucky, and Kentucky Hunters for the Hungry. Visit our Clays for a Cause page to learn more.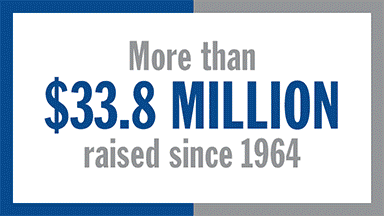 Country Ham Breakfast and Auction
Each year at the Kentucky State Fair, we celebrate the Commonwealth's deep agricultural roots at the Kentucky Farm Bureau Country Ham Breakfast and Auction. This event brings together urban and rural Kentuckians from every part of the state to enjoy breakfast and fellowship—and bid on the State Fair's Grand Champion Ham. Since the first auction in 1964, this Kentucky tradition has raised more than $33.8 million for dozens of charities across the Commonwealth. All money raised through this auction is donated directly to the charity of the winning bidder's choice.
Golf Classic
The Kentucky Farm Bureau Golf Classic, an 18-hole scramble, has been instrumental in raising hundreds of thousands of dollars for college scholarships benefiting Kentucky students since 1995. This annual event unites individuals from across the state in their shared support of higher education and Kentucky's youth. The Golf Classic exemplifies KFB's dedication to the Commonwealth, as it empowers students to pursue higher education and become the leaders of tomorrow.
Community Engagement
Not only does KFB have at least one office in all 120 Kentucky counties, but we also live and invest in these local communities. Whether through organizationally-led initiatives or employee-driven activities, we're actively serving in communities across the Bluegrass State.
Alzheimer's Association
In 2014, a group of KFB Insurance employees created The KFB ALZStars, a team designed to increase awareness about Alzheimer's disease and, with the help of their peers, raise funds in the fight against it. In that inaugural year, they brought in $3,255 for the annual Walk to End Alzheimer's in Louisville. Since that time, the team has expanded its philanthropic activities to include a bake sale, pumpkin decorating contest, corn hole tournament, and a large raffle. These efforts have produced almost $77,000 since 2014 and, in recent years, KFB Insurance has become the largest single contributor to the Alzheimer Association Greater Kentucky / Southern Indiana Chapter.
American Connection Project
KFB was an early partner in the launch of the American Connection Project, a nationwide effort to bring attention to the lack of rural broadband availability across the country. Knowing that reliable broadband internet service, especially in the rural parts of the state, is something many Kentuckians still don't have access to in their homes, KFB activated a free, public Wi- Fi internet signal from all its nearly 200 locations statewide. The service is accessible from the parking areas around KFB's buildings from 7am-10pm daily and is free to anyone who would like to use it. As KFB continues to advocate for more and better internet service in all parts of the Commonwealth, this initiative is focused on helping Kentuckians remain connected where broadband availability is weak or nonexistent. To find a KFB office and free Wi-Fi near you, click here.
Repair Affair
Since 2001, KFB Insurance has partnered with the Louisville-based non-profit organization, New Directions Housing Corporation, to participate in its annual Repair Affair program. This program is designed to create safe and habitable homes for elderly and disabled homeowners by matching their essential home repair needs with a team of volunteers willing and able to do the work. Since becoming involved in the program, KFB Insurance employees have contributed nearly 2,800 hours of service and have helped 23 deserving homeowners maintain their independence and a healthy living environment.
Educational Programs
Supporting education and educators in Kentucky has long been a priority at KFB. From our generous college scholarship program to our youth, teacher, and ag leader training programs, we continue to invest in enhancing the Commonwealth's educational future.
Scholarship Program
Formed in 1953, KFB's Education Foundation was created to help Farm Bureau members and their families obtain post-secondary education. In partnership with county Farm Bureaus, the foundation has awarded thousands of college scholarships worth more than $3.5 million dollars to both traditional and non-traditional students across the Commonwealth. Visit our Scholarships page for eligibility and application details.
Regional Teacher Workshops
Kentucky Farm Bureau provides educators with a variety of training and professional development opportunities designed to better enable them to incorporate agriculture into their daily core curriculum. Each year, we host nearly 400 teachers from across the state to attend one of our free professional development workshops. Visit our Regional Teacher Workshops page to learn more or register for the next session.
Institute for Future Agricultural Leaders
We invest in our state's youth through KFB's homegrown Institute for Future Agricultural Leaders (IFAL) program. IFAL is a unique, five-day summer leadership conference that exposes high school juniors to college life and lets them explore different fields of study for careers in agriculture. Visit our IFAL page for program information and application requirements.
Leadership Enhancement for Agricultural Development
KFB's Leadership Enhancement for Agricultural Development (LEAD) program presents participants with two years of intensive learning designed to prepare them for tomorrow's challenges. This program, designed for Farm Bureau members between the ages of 25 and 40, helps these future agricultural leaders develop skills that make them more effective leaders and assists in their personal and professional growth. Visit the LEAD page for an overview of the program and application requirements.