Nick Noe Agent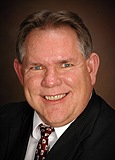 KFB Insurance Agent Since 2008
Nick Noe began his service with Farm Bureau in 2008 as an agent in Harlan County. Though he is fairly new to Farm Bureau, he has been in the insurance business for 24 years. Noe has received numerous professional awards during his career with the companies he has represented. He prides himself in taking care of his clients and providing them with excellent customer service.
Nick was born and raised in Harlan and loves the county and is involved in his community. Nick pastors a church in Harlan and is involved with Harlan County Alliance, which is trying to get the churches to come together to help the people of Harlan County. Nick is married and has three children and one grandchild.
How can Nick Noe help you today?
KFB Insurance Learning Library
If you're not properly prepared, a flat tire can quickly pump the brakes on your road trip high, leaving you stranded on the side of the road instead of purposefully parked on a sandy beach.
When it comes to the motorist-cyclist relationship, remember that it's a two-way street! A mutual respect between drivers and bicyclists must exist for each type of traveler to arrive at their destination safely.
Check out these extension cord do's and don'ts for National Electrical Safety Month.