Nick Noe Agent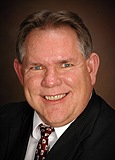 KFB Insurance Agent Since 2008
Nick Noe began his service with Farm Bureau in 2008 as an agent in Harlan County. Though he is fairly new to Farm Bureau, he has been in the insurance business for 24 years. Noe has received numerous professional awards during his career with the companies he has represented. He prides himself in taking care of his clients and providing them with excellent customer service.
Nick was born and raised in Harlan and loves the county and is involved in his community. Nick pastors a church in Harlan and is involved with Harlan County Alliance, which is trying to get the churches to come together to help the people of Harlan County. Nick is married and has three children and one grandchild.
How can Nick Noe help you today?
KFB Spotlight
Retail food prices in Kentucky increase slightly during 2nd Quarter of 2016 according to Kentucky Farm Bureau Marketbasket Survey

August 2, 2016

For the first time in over a year, food prices in the Commonwealth have increased.
July 20, 2016

Thanks to funding from the Kentucky Agricultural Development Board, the University of Kentucky Grains Center of Excellence will help advance Kentucky agriculture for decades.
July 19, 2016

Please complete and submit applications to the KFB state office no later than October 14, 2016.