Nick Noe Agent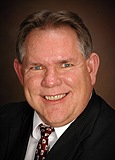 KFB Insurance Agent Since 2008
Nick Noe began his service with Farm Bureau in 2008 as an agent in Harlan County. Though he is fairly new to Farm Bureau, he has been in the insurance business for 24 years. Noe has received numerous professional awards during his career with the companies he has represented. He prides himself in taking care of his clients and providing them with excellent customer service.
Nick was born and raised in Harlan and loves the county and is involved in his community. Nick pastors a church in Harlan and is involved with Harlan County Alliance, which is trying to get the churches to come together to help the people of Harlan County. Nick is married and has three children and one grandchild.
How can Nick Noe help you today?
Life's Blueprints: A KFB Insurance Blog
Avoid a tree tragedy this holiday season! From 2010 to 2014, Christmas trees caused an average of 210 home fires, resulting in six deaths, 16 injuries, and $16.2 million in direct property damage annually.
Did you know that 49% of people said they would take photos or watch videos while driving through a parking lot, according to a National Safety Council survey?
During the holiday season, emergency rooms nationwide are flooded with victims of holiday decor gone wrong.