Nick Noe Agent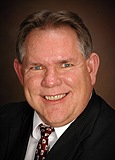 KFB Insurance Agent Since 2008
Nick Noe began his service with Farm Bureau in 2008 as an agent in Harlan County. Though he is fairly new to Farm Bureau, he has been in the insurance business for 24 years. Noe has received numerous professional awards during his career with the companies he has represented. He prides himself in taking care of his clients and providing them with excellent customer service.
Nick was born and raised in Harlan and loves the county and is involved in his community. Nick pastors a church in Harlan and is involved with Harlan County Alliance, which is trying to get the churches to come together to help the people of Harlan County. Nick is married and has three children and one grandchild.
How can Nick Noe help you today?
KFB Spotlight
May 20, 2016

The U.S. Department of Agriculture (USDA) announced in April the 2015 Local Food Marketing Practices Survey as part of its continued support of local and regional food systems.
May 18, 2016

Many homeowners impacted by the series of strong storms that have swept through Kentucky this month are now in need of contractors to repair damaged homes or clean up fallen debris.
May 11, 2016

Candidates for the 1st District Congressional race responded to policy questions on KFB Priority Issues.