Nick Noe Agent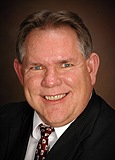 KFB Insurance Agent Since 2008
Nick Noe began his service with Farm Bureau in 2008 as an agent in Harlan County. Though he is fairly new to Farm Bureau, he has been in the insurance business for 24 years. Noe has received numerous professional awards during his career with the companies he has represented. He prides himself in taking care of his clients and providing them with excellent customer service.
Nick was born and raised in Harlan and loves the county and is involved in his community. Nick pastors a church in Harlan and is involved with Harlan County Alliance, which is trying to get the churches to come together to help the people of Harlan County. Nick is married and has three children and one grandchild.
How can Nick Noe help you today?
KFB Insurance Learning Library
Children are 70 times more likely to get to school safely while on the school bus as opposed to riding in a car.
Is your little one going back to school or starting school for the very first time? Be sure to school them on proper bus stop etiquette!
Just this year, more than 20 children across the United States died from heatstroke in unattended cars. In the past two decades, that tally has exceeded more than 700.