Nick Noe Agent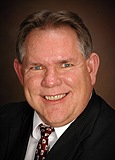 KFB Insurance Agent Since 2008
Nick Noe began his service with Farm Bureau in 2008 as an agent in Harlan County. Though he is fairly new to Farm Bureau, he has been in the insurance business for 24 years. Noe has received numerous professional awards during his career with the companies he has represented. He prides himself in taking care of his clients and providing them with excellent customer service.
Nick was born and raised in Harlan and loves the county and is involved in his community. Nick pastors a church in Harlan and is involved with Harlan County Alliance, which is trying to get the churches to come together to help the people of Harlan County. Nick is married and has three children and one grandchild.
How can Nick Noe help you today?
Life's Blueprints: A KFB Insurance Blog
Homeowners impacted by strong storms may find themselves in need of contractors to repair damaged homes or clean up fallen debris. When major storms hit, it is not unusual for "storm chasing" contractors to arrive on the scene looking for work. Hiring these contractors can be risky.
Do you ever wonder how your loved ones would fare should something ever happen to you? If someone depends on you financially, life insurance is a topic you shouldn't avoid?
Tires were built to be indestructible. While that's great for your vehicle, it's bad news for the Earth. So what exactly happens to our tires once we're done with them?