Nick Noe Agent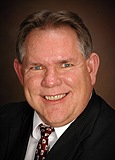 KFB Insurance Agent Since 2008
Nick Noe began his service with Farm Bureau in 2008 as an agent in Harlan County. Though he is fairly new to Farm Bureau, he has been in the insurance business for 24 years. Noe has received numerous professional awards during his career with the companies he has represented. He prides himself in taking care of his clients and providing them with excellent customer service.
Nick was born and raised in Harlan and loves the county and is involved in his community. Nick pastors a church in Harlan and is involved with Harlan County Alliance, which is trying to get the churches to come together to help the people of Harlan County. Nick is married and has three children and one grandchild.
How can Nick Noe help you today?
Life's Blueprints: A KFB Insurance Blog
Thanksgiving is the peak day for home cooking fires. In 2016, U.S. fire departments responded to more than 1,500 on that day alone.
Each year, the native white-tailed deer species is the cause of 150 human deaths and 1.5 million vehicle collisions nationally, according to the Insurance Institute for Highway Safety.
One of the biggest mistakes people make when storing a vehicle for the winter is leaving the fuel gauge at its current level. Gasoline can go bad over the course of the season and cause damage that far exceeds the bill for a new tank of fuel.