Nick Noe Agent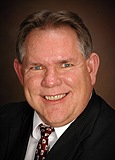 KFB Insurance Agent Since 2008
Nick Noe began his service with Farm Bureau in 2008 as an agent in Harlan County. Though he is fairly new to Farm Bureau, he has been in the insurance business for 24 years. Noe has received numerous professional awards during his career with the companies he has represented. He prides himself in taking care of his clients and providing them with excellent customer service.
Nick was born and raised in Harlan and loves the county and is involved in his community. Nick pastors a church in Harlan and is involved with Harlan County Alliance, which is trying to get the churches to come together to help the people of Harlan County. Nick is married and has three children and one grandchild.
How can Nick Noe help you today?
Life's Blueprints: A KFB Insurance Blog
You never know when a storm may hit, but you can prepare ahead of time by learning how to minimize the damage and properly report a loss to your Kentucky Farm Bureau Insurance agent.
Storms can loosen and rip apart materials built with asbestos, launching these invisible cancer-causing particles into the air we breathe.
It's tempting to crank up that space heater for some extra bedroom warmth or to de-ice your cold toes at the office, but take these precautions before turning that dial to the maximum setting.