Farm Insurance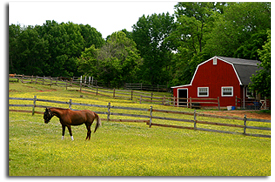 The Right Choice
KFB Insurance is rated A (Excellent), one of the highest ratings awarded by the A.M. Best Company, the most respected name in insurance rating services. This rating company strives to provide fair and objective ratings that help consumers make wise, educated insurance purchasing decisions.
Kentucky Farm Bureau Mutual Insurance Company is the largest property and casualty insurance company based in Kentucky and we're located where our customers are - in each and every one of the 120 counties in the Commonwealth. There you'll find full-service offices and qualified local agents - hometown people ready to serve you on a personal basis.
Which of our Farmowners Policies is Right for You?
The personal attention you receive from your local Kentucky Farm Bureau Agent helps you select the protection that meets your needs. In addition to the basic coverage provided by each policy, you and your local Kentucky Farm Bureau Agent can tailor your policy to provide coverage to your dwelling, contents, farm equipment and farm buildings:
Coverage for your farm equipment and farm buildings
Liability coverage
Optional coverages
Additional coverages
Kentucky Farm Bureau Insurance discounts
Fast claim service
Coverage for Your Farm Equipment and Farm Buildings
When you insure your farm equipment or farm buildings, some of the perils you receive protection from are:
Fire and lightning
Windstorm or hail
Explosion
Riot or civil commotion
Aircraft
Vehicles
Smoke
Vandalism and malicious mischief
Glass breakage (farm building only)
Falling objects
Theft or attempted theft
Overturn or collision (farm equipment only)
Coverages Included at No Extra Cost:
Fire department run
Debris removal
Removal of property
Emergency repairs after a loss
Liability Coverage:
In addition, some claims our liability protection may cover include:
Bodily injury
Medical payments
Property damage
First aid expense
Incidental farm business pursuit (i.e. roadside stands)
Limited pollution
Optional Coverages
Some of the optional coverages offered for an additional cost are:
Named persons medical
Farm employee loss of wages
Farm employee liability
Additional Coverages Available by Endorsement
Some additional risks you may purchase coverage for are:
Water back-up and sump overflow
Jewelry
Earthquake
Additional animal perils
Farm equipment glass coverage
Business pursuits
All terrain vehicles
Identity fraud expense
Equine business liability
Kentucky Farm Bureau Insurance Discounts
Some of the discounts we offer to qualified policyholders include:
Multi-policy discount (in which both home and vehicle(s) are insured)
Dwelling age discount
Protection device discount (for deadbolt locks, smoke alarms, fire extinguishers, security alarm systems, sprinkler systems, etc.)
Fast Claim Service
We have adjusters throughout Kentucky so when you call for help, you can expect your claim to be handled quickly and efficiently.
Be sure with Kentucky Farm Bureau Insurance
Contact your local Kentucky Farm Bureau Insurance Agent for more details about policy coverages and availability. No matter where you are in Kentucky, there's an agent near you.
Representations contained in this web page are for illustration purposes only. Coverage availability is subject to eligibility and other qualifications. Please consult your policy for actual contract coverage and exclusions. AD-12 (05-05)