Ed Leisge Jr Agent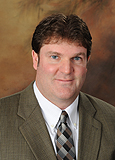 KFB Insurance Agent Since 1993
Eddie began his service with Kentucky Farm Bureau Insurance in 1993 as an agent and has felt honored to be able to provide a valuable service to the people of Harlan County.
Eddie has won several awards, including Agent of the Year in 2003. He has served as President and Vice President of the local chapter of NAIFA (National Association of Insurance and Financial Advisors).
Eddie enjoys helping with local youth sports and has served as board member and coach in a youth baseball league and also coached youth basketball teams. He grew up in Cumberland, Kentucky, where he currently lives with his wife and three children.
How can Ed Leisge Jr help you today?
Life's Blueprints: A KFB Insurance Blog
Traveling is stressful enough without throwing in important last-minute decisions at the rental car counter. Read on for some of most frequently asked questions regarding rental car insurance.
Thanksgiving is the peak day for home cooking fires. In 2018, U.S. fire departments responded to more than 1,630 on that day alone.
The answers to these frequently asked questions might be helpful in expanding your motorcycle insurance claims knowledge.