Ed Leisge Jr Agent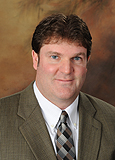 KFB Insurance Agent Since 1993
Eddie began his service with Kentucky Farm Bureau Insurance in 1993 as an agent and has felt honored to be able to provide a valuable service to the people of Harlan County.
Eddie has won several awards, including Agent of the Year in 2003. He has served as President and Vice President of the local chapter of NAIFA (National Association of Insurance and Financial Advisors).
Eddie enjoys helping with local youth sports and has served as board member and coach in a youth baseball league and also coached youth basketball teams. He grew up in Cumberland, Kentucky, where he currently lives with his wife and three children.
How can Ed Leisge Jr help you today?
Life's Blueprints: A KFB Insurance Blog
According to the Insurance Information Institute (III), approximately 75,000 people are seriously injured each year when mowing their lawn.
If you are involved in an auto accident, first and foremost, tend to the safety of everyone involved.
Drones come in all shapes and sizes and range anywhere from a $50 toy to a multi-million dollar military tool. While there are hundreds of uses for drones, read on for some of the main ones.