Ed Leisge Jr Agent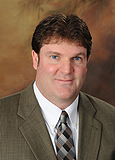 KFB Insurance Agent Since 1993
Eddie began his service with Kentucky Farm Bureau Insurance in 1993 as an agent and has felt honored to be able to provide a valuable service to the people of Harlan County.
Eddie has won several awards, including Agent of the Year in 2003. He has served as President and Vice President of the local chapter of NAIFA (National Association of Insurance and Financial Advisors).
Eddie enjoys helping with local youth sports and has served as board member and coach in a youth baseball league and also coached youth basketball teams. He grew up in Cumberland, Kentucky, where he currently lives with his wife and three children.
How can Ed Leisge Jr help you today?
KFB Spotlight
June 28, 2016

Please complete and submit applications to the KFB state office no later than October 7, 2016.
June 24, 2016

According to information from the USDA's Natural Resources Conservation Service, three-fourths of the world's flowering plants and about 35 percent of the world's food crops depend on animal pollinators to reproduce.
June 9, 2016

Heading into the summer, the state and county Farm Bureaus have provided 327 scholarship grants totaling $489,000 to students across the state.