Ed Leisge Jr Agent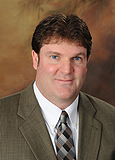 KFB Insurance Agent Since 1993
Eddie began his service with Kentucky Farm Bureau Insurance in 1993 as an agent and has felt honored to be able to provide a valuable service to the people of Harlan County.
Eddie has won several awards, including Agent of the Year in 2003. He has served as President and Vice President of the local chapter of NAIFA (National Association of Insurance and Financial Advisors).
Eddie enjoys helping with local youth sports and has served as board member and coach in a youth baseball league and also coached youth basketball teams. He grew up in Cumberland, Kentucky, where he currently lives with his wife and three children.
How can Ed Leisge Jr help you today?
KFB Spotlight
KFB Candid Conversations: Kentucky is set to lead research efforts with Grain & Forage Center of Excellence

September 20, 2016

KFB Candid Conversations presents a discussion about the University of Kentucky Grain & Forage Center of Excellence.
September 12, 2016
August 31, 2016

The Water Management Working Group has initiated many forward steps in opening up critical conversations about water issues.