Ed Leisge Jr Agent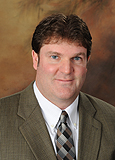 KFB Insurance Agent Since 1993
Eddie began his service with Kentucky Farm Bureau Insurance in 1993 as an agent and has felt honored to be able to provide a valuable service to the people of Harlan County.
Eddie has won several awards, including Agent of the Year in 2003. He has served as President and Vice President of the local chapter of NAIFA (National Association of Insurance and Financial Advisors).
Eddie enjoys helping with local youth sports and has served as board member and coach in a youth baseball league and also coached youth basketball teams. He grew up in Cumberland, Kentucky, where he currently lives with his wife and three children.
How can Ed Leisge Jr help you today?
Life's Blueprints: A KFB Insurance Blog
Each year, the native white-tailed deer species is the cause of 150 human deaths and 1.5 million vehicle collisions nationally, according to the Insurance Institute for Highway Safety.
Parents and caregivers have the ability to make lifesaving differences when buckling young ones in for a trip.
According to the National Insurance Crime Bureau (NICB), catalytic converter thefts have seen a significant increase across the country since March of 2020, the start of the global COVID-19 pandemic.