Ed Leisge Jr Agent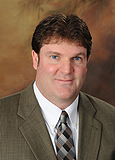 KFB Insurance Agent Since 1993
Eddie began his service with Kentucky Farm Bureau Insurance in 1993 as an agent and has felt honored to be able to provide a valuable service to the people of Harlan County.
Eddie has won several awards, including Agent of the Year in 2003. He has served as President and Vice President of the local chapter of NAIFA (National Association of Insurance and Financial Advisors).
Eddie enjoys helping with local youth sports and has served as board member and coach in a youth baseball league and also coached youth basketball teams. He grew up in Cumberland, Kentucky, where he currently lives with his wife and three children.
How can Ed Leisge Jr help you today?
KFB Insurance Learning Library
Early examples of distracted driving studies go back as far as 1963, when scientist John Senders took to the roads blindfolded – all in the name of research.
Today, the number of cellphones in the U.S. surpasses the country's population. And according to a study by AT&T, 70 percent of people admit to using those cellphones while driving.
The automobile and tech industries have taken notice of distracted driving. Some tools have already been invented to curb the effects of this rampant roadway issue, while other technologies are quickly developing from budding ideas to larger-than-life innovations.