Ed Leisge Jr Agent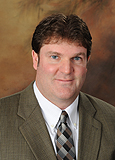 KFB Insurance Agent Since 1993
Eddie began his service with Kentucky Farm Bureau Insurance in 1993 as an agent and has felt honored to be able to provide a valuable service to the people of Harlan County.
Eddie has won several awards, including Agent of the Year in 2003. He has served as President and Vice President of the local chapter of NAIFA (National Association of Insurance and Financial Advisors).
Eddie enjoys helping with local youth sports and has served as board member and coach in a youth baseball league and also coached youth basketball teams. He grew up in Cumberland, Kentucky, where he currently lives with his wife and three children.
How can Ed Leisge Jr help you today?
Life's Blueprints: A KFB Insurance Blog
The highest risk of severe thunderstorms and tornadoes in Kentucky typically occurs from March to June.
As more and more people pluck drones off retail store shelves for both personal and business use, these little sci-fi-like flying machines are becoming an increasingly common sight in Kentucky's skies.
A study on fatal crashes that occurred over a five-year span found that rain actually caused more driving fatalities than snow in 39 of the 50 states.