Roger Fannin Agency Manager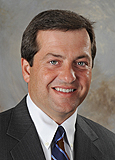 KFB Insurance Agent Since 1996
Roger Fannin began his service with Kentucky Farm Bureau in 1996 as an agent in Knott County. In 2001, he accepted the position of Agency Manager in the Harlan County office and has felt at home ever since.
Roger has earned numerous awards during his career with Kentucky Farm Bureau including Agent of the Year, four years as Agency Manager of the year and four years as a Master Agent. Roger is active with the Harlan Rotary, Harlan Tourism Commission and serves as the past President and current board member of the Harlan Chamber of Commerce.
How can Roger Fannin help you today?
KFB Insurance Learning Library
For the most part, the days of black ice and snowy roads are behind us – but don't let your guard down! The rainy season is now upon us.
A little more than two hundred years ago, a Cornish chemist by the name of Sir Humphry Davy connected wires to a battery and a piece of carbon, causing the carbon to glow. This seemingly insignificant event was the first step toward a life-changing, modern convenience we have all come to know and love: electric lighting.
Early examples of distracted driving studies go back as far as 1963, when scientist John Senders took to the roads blindfolded – all in the name of research.