Roger Fannin Agency Manager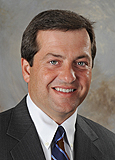 KFB Insurance Agent Since 1996
Roger Fannin began his service with Kentucky Farm Bureau in 1996 as an agent in Knott County. In 2001, he accepted the position of Agency Manager in the Harlan County office and has felt at home ever since.
Roger has earned numerous awards during his career with Kentucky Farm Bureau including Agent of the Year, four years as Agency Manager of the year and four years as a Master Agent. Roger is active with the Harlan Rotary, Harlan Tourism Commission and serves as the past President and current board member of the Harlan Chamber of Commerce.
How can Roger Fannin help you today?
Life's Blueprints: A KFB Insurance Blog
It's harvest time in the Bluegrass State! That means Kentucky drivers are pretty likely to encounter slow-moving farm equipment on the roadways.
Do you ever wonder how your loved ones would fare should something ever happen to you? If someone depends on you financially, life insurance is a topic you shouldn't avoid?
Do you know who would be financially responsible for your belongings if your apartment caught on fire or was broken into? If you think that your landlord is on the hook for your stuff in the event of a catastrophe — think again.