Roger Fannin Agency Manager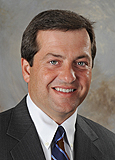 KFB Insurance Agent Since 1996
Roger Fannin began his service with Kentucky Farm Bureau in 1996 as an agent in Knott County. In 2001, he accepted the position of Agency Manager in the Harlan County office and has felt at home ever since.
Roger has earned numerous awards during his career with Kentucky Farm Bureau including Agent of the Year, four years as Agency Manager of the year and four years as a Master Agent. Roger is active with the Harlan Rotary, Harlan Tourism Commission and serves as the past President and current board member of the Harlan Chamber of Commerce.
How can Roger Fannin help you today?
KFB Spotlight
KFB Candid Conversations: Kentucky is set to lead research efforts with Grain & Forage Center of Excellence

September 20, 2016

KFB Candid Conversations presents a discussion about the University of Kentucky Grain & Forage Center of Excellence.
September 12, 2016
August 31, 2016

The Water Management Working Group has initiated many forward steps in opening up critical conversations about water issues.