Pete Cornett Jr Agent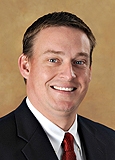 KFB Insurance Agent Since 2001
Since 2001, Pete Cornett, Jr., has had the privilege of being an insurance agent in the county he was born and raised. Cornett attended Cumberland High School and went on to attend Lindsey Wilson College. After graduation, he returned to Harlan County and promptly began his career as an agent.
Through the years, Cornett has enjoyed meeting the folks of Harlan County and serving their insurance needs. He continues to be an avid golfer after serving as president of the Harlan Country Club, as well as the tournament chair for several years. He is currently a chairperson for the Harlan County Economic Development Authority, where he strives to see growth and development for the mountain community. He is also a deacon of the Harlan Christian Church.
Cornett, his wife, and their three children currently reside in Loyall. He looks forward to continuing to meet your insurance needs.
How can Pete Cornett Jr help you today?
Life's Blueprints: A KFB Insurance Blog
The highest risk of severe thunderstorms and tornadoes in Kentucky typically occurs from March to June.
As more and more people pluck drones off retail store shelves for both personal and business use, these little sci-fi-like flying machines are becoming an increasingly common sight in Kentucky's skies.
A study on fatal crashes that occurred over a five-year span found that rain actually caused more driving fatalities than snow in 39 of the 50 states.