Pete Cornett Jr Agent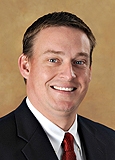 KFB Insurance Agent Since 2001
Since 2001, Pete Cornett, Jr., has had the privilege of being an insurance agent in the county he was born and raised. Cornett attended Cumberland High School and went on to attend Lindsey Wilson College. After graduation, he returned to Harlan County and promptly began his career as an agent.
Through the years, Cornett has enjoyed meeting the folks of Harlan County and serving their insurance needs. He continues to be an avid golfer after serving as president of the Harlan Country Club, as well as the tournament chair for several years. He is currently a chairperson for the Harlan County Economic Development Authority, where he strives to see growth and development for the mountain community. He is also a deacon of the Harlan Christian Church.
Cornett, his wife, and their three children currently reside in Loyall. He looks forward to continuing to meet your insurance needs.
How can Pete Cornett Jr help you today?
Life's Blueprints: A KFB Insurance Blog
According to the National Insurance Crime Bureau (NICB), catalytic converter thefts have seen a significant increase across the country since March of 2020, the start of the global COVID-19 pandemic.
In 2021, 23 children across the United States died from heatstroke in unattended cars.
For millions of working Americans, employer-provided life insurance is a valuable perk. However, it may not provide enough coverage for your loved ones after you're gone. Check out this article for information on when it may be necessary to purchase additional coverage.