Pete Cornett Jr Agent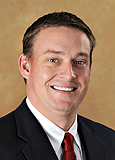 KFB Insurance Agent Since 2001
How many people can say they found their job while performing their greatest passion in life: golf? After graduating from Lindsey Wilson College on a golf scholarship, Pete Cornett, Jr. had decided not to come back to the place where he was born and reared: Harlan County. Yet fate played a different role that day on the course when he was asked if he would be interested in applying with KFB.
An agent for seven years now, and the recipient of the 2004 District Agent of the Year Award, Pete enjoys being able to serve and aid those with whom he has grown up with his entire life. Married to a hometown girl and father of three beautiful children, he takes satisfaction in what he can bring to others as a member of the KFB family: reliability, dependability, trustworthy, and the personal desire to serve his clients in the utmost respectable way.
How can Pete Cornett Jr help you today?
KFB Insurance Learning Library
The soft leaves, pine needles, saplings and debris in your gutters are perfect home-building materials for invasive critters such as squirrels, possums, birds and cockroaches.
An accurate and up-to-date home inventory can help you make sure you initially elect the right amount of insurance protection, and in the event of a loss, it can make filing a claim much simpler.
It's harvest time in the Bluegrass State! That means Kentucky drivers are pretty likely to encounter slow-moving farm equipment on the roadways.