Pete Cornett Jr Agent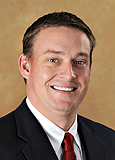 KFB Insurance Agent Since 2001
Since 2001, Pete Cornett, Jr., has had the privilege of being an insurance agent in the county he was born and raised. Cornett attended Cumberland High School and went on to attend Lindsey Wilson College. After graduation, he returned to Harlan County and promptly began his career as an agent.
Through the years, Cornett has enjoyed meeting the folks of Harlan County and serving their insurance needs. He continues to be an avid golfer after serving as president of the Harlan Country Club, as well as the tournament chair for several years. He is currently a chairperson for the Harlan County Economic Development Authority, where he strives to see growth and development for the mountain community. He is also a deacon of the Harlan Christian Church.
Cornett, his wife, and their three children currently reside in Loyall. He looks forward to continuing to meet your insurance needs.
How can Pete Cornett Jr help you today?
Life's Blueprints: A KFB Insurance Blog
Homeowners impacted by strong storms may find themselves in need of contractors to repair damaged homes or clean up fallen debris. When major storms hit, it is not unusual for "storm chasing" contractors to arrive on the scene looking for work. Hiring these contractors can be risky.
Do you ever wonder how your loved ones would fare should something ever happen to you? If someone depends on you financially, life insurance is a topic you shouldn't avoid?
Tires were built to be indestructible. While that's great for your vehicle, it's bad news for the Earth. So what exactly happens to our tires once we're done with them?