Pete Cornett Jr Agent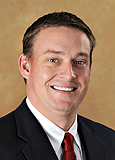 KFB Insurance Agent Since 2001
How many people can say they found their job while performing their greatest passion in life: golf? After graduating from Lindsey Wilson College on a golf scholarship, Pete Cornett, Jr. had decided not to come back to the place where he was born and reared: Harlan County. Yet fate played a different role that day on the course when he was asked if he would be interested in applying with KFB.
An agent for seven years now, and the recipient of the 2004 District Agent of the Year Award, Pete enjoys being able to serve and aid those with whom he has grown up with his entire life. Married to a hometown girl and father of three beautiful children, he takes satisfaction in what he can bring to others as a member of the KFB family: reliability, dependability, trustworthy, and the personal desire to serve his clients in the utmost respectable way.
How can Pete Cornett Jr help you today?
KFB Insurance Learning Library
Historically, mid- to late-January is when Kentuckians experience the lowest temperatures of the year. According to the 2016 Farmers' Almanac, Old Man Winter will be back with a vengeance this year, noting that "while last winter was a reprieve from shoveling and high fuel bills, the party is over."
Did you know that 49% of people said they would take photos or watch videos while driving through a parking lot, according to a National Safety Council survey?
As summer sun and warmer weather starts to give way to the chillier days of fall and winter, it becomes hibernation time for many recreational vehicles. Properly putting boats, RVs, muscle cars and motorcycles to bed requires a little more effort than parking them in the side yard.