Shelby County Agency
Our Shelby County Agency is Ready to Meet All Your Insurance Needs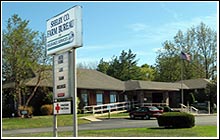 At the Shelbyville and Simpsonville offices, we treat members like family. Trust our staff of 15 licensed Agents and CSRs, with more than 100 years of combined underwriting experience, to make sure your assets are fully insured.

In addition to extended hours on Thursday evenings, we're happy to set-up an appoinment to fit your schedule. Our convenient locations include ample parking.
Meet Our Insurance Agents
How can the Shelby County Agency help you today?
KFB Insurance Learning Library
Check out these extension cord do's and don'ts for National Electrical Safety Month.
Did you know that May is Motorcycle Safety Awareness Month? Motorcyclists are 27 times more likely to die in an accident than occupants of cars, and 6 times more likely to be injured, according to NHTSA.
A study on fatal crashes that occurred between 2009 and 2013 found that rain caused more driving fatalities than snow in 39 of the 50 states.