Shelby County Agency
Our Shelby County Agency is Ready to Meet All Your Insurance Needs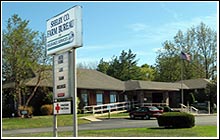 At the Shelbyville and Simpsonville offices, we treat members like family. Trust our staff of 15 licensed Agents and CSRs, with more than 100 years of combined underwriting experience, to make sure your assets are fully insured.

In addition to extended hours on Thursday evenings, we're happy to set-up an appoinment to fit your schedule. Our convenient locations include ample parking.
Meet Our Insurance Agents
How can the Shelby County Agency help you today?
KFB Insurance Learning Library
Early examples of distracted driving studies go back as far as 1963, when scientist John Senders took to the roads blindfolded – all in the name of research.
Today, the number of cellphones in the U.S. surpasses the country's population. And according to a study by AT&T, 70 percent of people admit to using those cellphones while driving.
The automobile and tech industries have taken notice of distracted driving. Some tools have already been invented to curb the effects of this rampant roadway issue, while other technologies are quickly developing from budding ideas to larger-than-life innovations.