Shelby County Agency
Our Shelby County Agency is Ready to Meet All Your Insurance Needs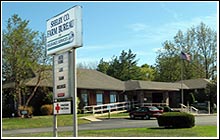 At the Shelbyville and Simpsonville offices, we treat members like family. Trust our staff of 15 licensed Agents and CSRs, with more than 100 years of combined underwriting experience, to make sure your assets are fully insured.

In addition to extended hours on Thursday evenings, we're happy to set-up an appoinment to fit your schedule. Our convenient locations include ample parking.
How can the Shelby County Agency help you today?
KFB Spotlight
June 28, 2016

Please complete and submit applications to the KFB state office no later than October 7, 2016.
June 24, 2016

According to information from the USDA's Natural Resources Conservation Service, three-fourths of the world's flowering plants and about 35 percent of the world's food crops depend on animal pollinators to reproduce.
June 9, 2016

Heading into the summer, the state and county Farm Bureaus have provided 327 scholarship grants totaling $489,000 to students across the state.