Shelby County Agency
Our Shelby County Agency is Ready to Meet All Your Insurance Needs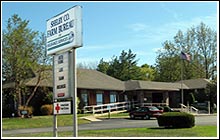 At the Shelbyville and Simpsonville offices, we treat members like family. Trust our staff of 15 licensed Agents and CSRs, with more than 100 years of combined underwriting experience, to make sure your assets are fully insured.

In addition to extended hours on Thursday evenings, we're happy to set-up an appointment to fit your schedule. Our convenient locations include ample parking.
Meet Our Insurance Agents
How can the Shelby County Agency help you today?
Life's Blueprints: A KFB Insurance Blog
We're all for enjoying Kentucky's beautiful sights via four-wheeler, but practice these tips to help keep ATV injuries and fatalities down in 2021.
When it comes to the motorist-cyclist relationship, remember that it's a two-way street! A mutual respect between drivers and bicyclists must exist for each type of traveler to arrive at their destination safely.
Early examples of distracted driving studies go back as far as 1963, when scientist John Senders took to the roads blindfolded – all in the name of research.