Shelby County Agency
Our Shelby County Agency is Ready to Meet All Your Insurance Needs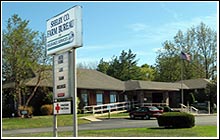 At the Shelbyville and Simpsonville offices, we treat members like family. Trust our staff of 15 licensed Agents and CSRs, with more than 100 years of combined underwriting experience, to make sure your assets are fully insured.

In addition to extended hours on Thursday evenings, we're happy to set-up an appoinment to fit your schedule. Our convenient locations include ample parking.
Meet Our Insurance Agents
How can the Shelby County Agency help you today?
KFB Insurance Learning Library
Children are 70 times more likely to get to school safely while on the school bus as opposed to riding in a car.
Is your little one going back to school or starting school for the very first time? Be sure to school them on proper bus stop etiquette!
Just this year, more than 20 children across the United States died from heatstroke in unattended cars. In the past two decades, that tally has exceeded more than 700.