Shelby County Agency
Our Shelby County Agency is Ready to Meet All Your Insurance Needs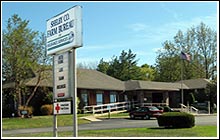 At the Shelbyville and Simpsonville offices, we treat members like family. Trust our staff of 15 licensed Agents and CSRs, with more than 100 years of combined underwriting experience, to make sure your assets are fully insured.

In addition to extended hours on Thursday evenings, we're happy to set-up an appointment to fit your schedule. Our convenient locations include ample parking.
How can the Shelby County Agency help you today?
Life's Blueprints: A KFB Insurance Blog
Frozen water can wreak havoc on metal or plastic pipes, no matter their strength. According to the Insurance Institute for Business and Home Safety, a 1/8th inch crack in a pipe can spew up to 250 gallons of water a day!
Homeowners impacted by strong storms may find themselves in need of contractors to repair damaged homes or clean up fallen debris. When major storms hit, it is not unusual for "storm chasing" contractors to arrive on the scene looking for work. Hiring these contractors can be risky.
While salt is good for the roads, it can be very bad for the cars on those roads. That magical substance used for de-icing can also de-paint your car.