Shelby County Agency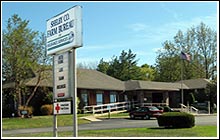 At the Shelbyville and Simpsonville offices, we treat members like family. Trust our staff of 15 licensed Agents and CSRs, with more than 100 years of combined underwriting experience, to make sure your assets are fully insured.

We're happy to set-up an appointment to fit your schedule. Our convenient locations include ample parking.
Meet Our Insurance Agents
How can the Shelby County Agency help you today?
Life's Blueprints: A KFB Insurance Blog
Embracing smart home technology can seem incredibly daunting at first, but through simple, app-based controls, professional installation services, and affordable price points, anyone can make their home a little more intelligent.
Have you ever wondered what to do with dead batteries, broken electronics, and burnt-out light bulbs? Read on to find out which common household items often wrongfully end up in the trash – and what you should do with them instead.
Kentucky is one of 16 states at the highest risk for earthquakes, according to the United States Geological Survey.