Shelby County Agency
Our Shelby County Agency is Ready to Meet All Your Insurance Needs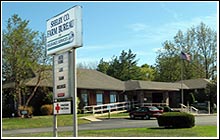 At the Shelbyville and Simpsonville offices, we treat members like family. Trust our staff of 15 licensed Agents and CSRs, with more than 100 years of combined underwriting experience, to make sure your assets are fully insured.

In addition to extended hours on Thursday evenings, we're happy to set-up an appoinment to fit your schedule. Our convenient locations include ample parking.
How can the Shelby County Agency help you today?
KFB Spotlight
October 24, 2016

After a slight increase in food prices was experienced during the second quarter of 2016, third quarter results returned to declines.
October 19, 2016

Agriculture Commissioner Ryan Quarles encourages Kentucky school children to celebrate Farm to School Month in October and throughout the year.
October 18, 2016

The Office of Veterans Business Development recognized Patricia Krausman, director of the Elizabethtown Small Business Development Center, as one of the six most outstanding instructors for the 2016 Boots 2 Business program.