Pat Murphy Agent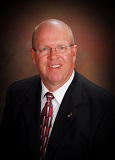 KFB Insurance Agent Since 1991
Pat began his career as a Kentucky Farm Bureau Insurance agent in 1991 and has won numerous awards while at KFB, including the company's "Agent of the Year" for District 3 in 2001. He also won 1st place among Shelby County insurance agents in The Sentinel-News' "Best Of" awards for 2013.
A graduate of Shelby County High School, Pat is a strong believer in giving back to his community. He serves as an Elder at Shelby Christian Church and is on the Missions Team there, traveling to Poland on many mission trips. Pat has been the Board Chairman for the Shelbyville/Shelby County Crime Stoppers organization since its inception in 2007.
An avid supporter of all local sports, Pat is a member of the Shelby County High School Athletic Hall of Fame, having served that school and Collins High School as statistician and scorekeeper. He has been a member of KHSAA state championship teams at both high schools.

How can Pat Murphy help you today?
Life's Blueprints: A KFB Insurance Blog
The auto industry has taken notice of distracted driving. Some tools have already been invented to curb the effects, while other technologies are quickly developing from budding ideas to larger-than-life innovations.
Floods are the nation's most common and costly natural disaster, producing millions of dollars of destruction every year, according to the National Flood Insurance Program.
Homeowners impacted by strong storms may find themselves in need of contractors to repair damaged homes or clean up fallen debris. When major storms hit, it is not unusual for "storm chasing" contractors to arrive on the scene looking for work. Hiring these contractors can be risky.