Pat Murphy Agent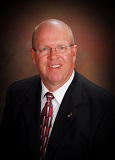 KFB Insurance Agent Since 1991
Pat began his career as a Kentucky Farm Bureau Insurance agent in 1991 and has won numerous awards while at KFB, including the company's "Agent of the Year" for District 3 in 2001. He also won 1st place among Shelby County insurance agents in The Sentinel-News' "Best Of" awards for 2013.
A graduate of Shelby County High School, Pat is a strong believer in giving back to his community. He serves as an Elder at Shelby Christian Church and is on the Missions Team there, traveling to Poland on many mission trips. Pat has been the Board Chairman for the Shelbyville/Shelby County Crime Stoppers organization since its inception in 2007.
An avid supporter of all local sports, Pat is a member of the Shelby County High School Athletic Hall of Fame, having served that school and Collins High School as statistician and scorekeeper. He has been a member of KHSAA state championship teams at both high schools.

How can Pat Murphy help you today?
Life's Blueprints: A KFB Insurance Blog
Children are 70 times more likely to get to school safely while on the school bus as opposed to riding in a car.
Parents and caregivers have the ability to make lifesaving differences when buckling young ones in for a trip.
Do you know who would be financially responsible for your belongings if your apartment caught on fire or was broken into? If you think that your landlord is on the hook for your stuff in the event of a catastrophe — think again.