Pat Hargadon Agency Manager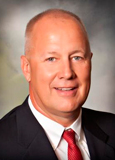 KFB Insurance Agent Since 1986
Pat Hargadon has been an agent with Kentucky Farm Bureau Insurance in Shelby County since 1986. He has served as agency manager for the Shelby County office since 2000. Pat is an active member of the Shelby County community and has earned numerous recognitions and awards for his efforts. His current positions include:
Director, Shelby County Industrial Foundation
Director, Farm Credit Advisory Committee
Director, Citizens Union Bank
Commissioner, US 60 Water District
Board Member, Lincoln Heritage Boy Scout Council
Pat attended the University of Louisville and is a graduate of Leadership Kentucky and the Philip Morris Agricultural Leadership Development Program. Pat enjoys spending time with family and working on the family beef cattle farm.
How can Pat Hargadon help you today?
KFB Insurance Learning Library
It's tempting to crank up that space heater for some extra bedroom warmth or to de-ice your cold toes at the office, but take these precautions before turning that dial to the maximum setting.
While salt is good for the roads, it can be very bad for the cars on those roads. That magical substance used for de-icing can also de-paint your car.
Historically, Super Bowl Sunday falls in line as one of the top drinking days of the year, frequently ranking second only to New Year's Eve.