Pat Hargadon Agency Manager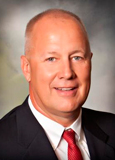 KFB Insurance Agent Since 1986
Pat Hargadon has been an agent with Kentucky Farm Bureau Insurance in Shelby County since 1986. He has served as agency manager for the Shelby County office since 2000. Pat is an active member of the Shelby County community and has earned numerous recognitions and awards for his efforts. His current positions include:
Director, Shelby County Industrial Foundation
Director, Farm Credit Advisory Committee
Director, Citizens Union Bank
Commissioner, US 60 Water District
Board Member, Lincoln Heritage Boy Scout Council
Pat attended the University of Louisville and is a graduate of Leadership Kentucky and the Philip Morris Agricultural Leadership Development Program. Pat enjoys spending time with family and working on the family beef cattle farm.
How can Pat Hargadon help you today?
KFB Insurance Learning Library
For the most part, the days of black ice and snowy roads are behind us – but don't let your guard down! The rainy season is now upon us.
A little more than two hundred years ago, a Cornish chemist by the name of Sir Humphry Davy connected wires to a battery and a piece of carbon, causing the carbon to glow. This seemingly insignificant event was the first step toward a life-changing, modern convenience we have all come to know and love: electric lighting.
Early examples of distracted driving studies go back as far as 1963, when scientist John Senders took to the roads blindfolded – all in the name of research.