Pat Hargadon Agency Manager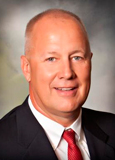 KFB Insurance Agent Since 1986
Pat Hargadon has been an agent with Kentucky Farm Bureau Insurance in Shelby County since 1986. He has served as agency manager for the Shelby County office since 2000. Pat is an active member of the Shelby County community and has earned numerous recognitions and awards for his efforts. His current positions include:
Director, Shelby County Industrial Foundation
Director, Farm Credit Advisory Committee
Director, Citizens Union Bank
Commissioner, US 60 Water District
Board Member, Lincoln Heritage Boy Scout Council
Pat attended the University of Louisville and is a graduate of Leadership Kentucky and the Philip Morris Agricultural Leadership Development Program. Pat enjoys spending time with family and working on the family beef cattle farm.
How can Pat Hargadon help you today?
Life's Blueprints: A KFB Insurance Blog
Homeowners impacted by strong storms may find themselves in need of contractors to repair damaged homes or clean up fallen debris. When major storms hit, it is not unusual for "storm chasing" contractors to arrive on the scene looking for work. Hiring these contractors can be risky.
Do you ever wonder how your loved ones would fare should something ever happen to you? If someone depends on you financially, life insurance is a topic you shouldn't avoid?
Tires were built to be indestructible. While that's great for your vehicle, it's bad news for the Earth. So what exactly happens to our tires once we're done with them?