Pat Hargadon Agency Manager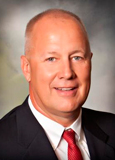 KFB Insurance Agent Since 1986
Pat Hargadon has been an agent with Kentucky Farm Bureau Insurance in Shelby County since 1986. He has served as agency manager for the Shelby County office since 2000. Pat is an active member of the Shelby County community and has earned numerous recognitions and awards for his efforts. His current positions include:
Director, Shelby County Industrial Foundation
Director, Farm Credit Advisory Committee
Director, Citizens Union Bank
Commissioner, US 60 Water District
Board Member, Lincoln Heritage Boy Scout Council
Pat attended the University of Louisville and is a graduate of Leadership Kentucky and the Philip Morris Agricultural Leadership Development Program. Pat enjoys spending time with family and working on the family beef cattle farm.
How can Pat Hargadon help you today?
Life's Blueprints: A KFB Insurance Blog
Avoid a tree tragedy this holiday season! From 2010 to 2014, Christmas trees caused an average of 210 home fires, resulting in six deaths, 16 injuries, and $16.2 million in direct property damage annually.
Did you know that 49% of people said they would take photos or watch videos while driving through a parking lot, according to a National Safety Council survey?
During the holiday season, emergency rooms nationwide are flooded with victims of holiday decor gone wrong.