Pat Hargadon Agency Manager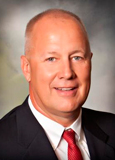 KFB Insurance Agent Since 1986
Pat Hargadon has been an agent with Kentucky Farm Bureau Insurance in Shelby County since 1986. He has served as agency manager for the Shelby County office since 2000. Pat is an active member of the Shelby County community and has earned numerous recognitions and awards for his efforts. His current positions include:
Director, Shelby County Industrial Foundation
Director, Farm Credit Advisory Committee
Director, Citizens Union Bank
Commissioner, US 60 Water District
Board Member, Lincoln Heritage Boy Scout Council
Pat attended the University of Louisville and is a graduate of Leadership Kentucky and the Philip Morris Agricultural Leadership Development Program. Pat enjoys spending time with family and working on the family beef cattle farm.
How can Pat Hargadon help you today?
KFB Spotlight
Retail food prices in Kentucky increase slightly during 2nd Quarter of 2016 according to Kentucky Farm Bureau Marketbasket Survey

August 2, 2016

For the first time in over a year, food prices in the Commonwealth have increased.
July 20, 2016

Thanks to funding from the Kentucky Agricultural Development Board, the University of Kentucky Grains Center of Excellence will help advance Kentucky agriculture for decades.
July 19, 2016

Please complete and submit applications to the KFB state office no later than October 14, 2016.