Pat Hargadon Agency Manager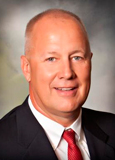 KFB Insurance Agent Since 1986
Pat Hargadon has been an agent with Kentucky Farm Bureau Insurance in Shelby County since 1986. He has served as agency manager for the Shelby County office since 2000. Pat is an active member of the Shelby County community and has earned numerous recognitions and awards for his efforts. His current positions include:
Director, Shelby County Industrial Foundation
Director, Farm Credit Advisory Committee
Director, Citizens Union Bank
Commissioner, US 60 Water District
Board Member, Lincoln Heritage Boy Scout Council
Pat attended the University of Louisville and is a graduate of Leadership Kentucky and the Philip Morris Agricultural Leadership Development Program. Pat enjoys spending time with family and working on the family beef cattle farm.
How can Pat Hargadon help you today?
KFB Insurance Learning Library
The soft leaves, pine needles, saplings and debris in your gutters are perfect home-building materials for invasive critters such as squirrels, possums, birds and cockroaches.
An accurate and up-to-date home inventory can help you make sure you initially elect the right amount of insurance protection, and in the event of a loss, it can make filing a claim much simpler.
It's harvest time in the Bluegrass State! That means Kentucky drivers are pretty likely to encounter slow-moving farm equipment on the roadways.