Nathan Franklin Agent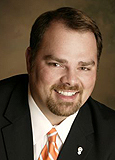 KFB Insurance Agent Since 2000
Nathan has been an agent with Kentucky Farm Bureau Insurance in Shelby County since 2000. Throughout this time, he has won numerous awards, including being named Kentucky Farm Bureau Insurance District 3 Agent of the Year in 2003. He currently serves as an Associate Director for the Shelby County A&M Association and on the Board of Directors for the Shelbyville/Shelby Chamber of Commerce
Nathan holds a degree in Natural Resource Conservation Management from the University of Kentucky. He resides on a 218-acre farm with his wife.
How can Nathan Franklin help you today?
KFB Spotlight
April 29, 2016

Kentucky Farm Bureau was involved in many pieces of legislation this session supporting, opposing, and monitoring bills.
April 20, 2016
April 19, 2016

The Kentucky Farm Bureau Communications Award recognizes and honors the outstanding efforts of a professional journalist whose recent work has contributed to a better public understanding and appreciation of the people, communities and issues connected to Kentucky agriculture.