Nathan Franklin Agent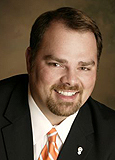 KFB Insurance Agent Since 2000
Nathan has been an agent with Kentucky Farm Bureau Insurance in Shelby County since 2000. Throughout this time, he has won numerous awards, including being named Kentucky Farm Bureau Insurance District 3 Agent of the Year in 2003. He currently serves as an Associate Director for the Shelby County A&M Association and on the Board of Directors for the Shelbyville/Shelby Chamber of Commerce
Nathan holds a degree in Natural Resource Conservation Management from the University of Kentucky. He resides on a 218-acre farm with his wife.
How can Nathan Franklin help you today?
Life's Blueprints: A KFB Insurance Blog
Distracted driving is no laughing matter -- just ask Tareena Horton. On Valentine's Day in 2009, the Breckinridge County resident learned first-hand just how quickly an innocent distraction can turn into a life-altering event.
Today, the number of cellphones in the U.S. surpasses the country's population. And according to a study by AT&T, 70 percent of people admit to using those cellphones while driving.
The auto and tech industries have taken notice of distracted driving. Some tools have already been invented to curb the effects, while other technologies are quickly developing from budding ideas to larger-than-life innovations.