Nathan Franklin Agent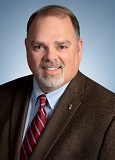 KFB Insurance Agent Since 2000
Nathan started his career with Kentucky Farm Bureau Insurance in May of 2000 and since then has won numerous awards and honors. In 2003, Nathan was named Kentucky Farm Bureau Mutual Insurance Company's "Agent of the Year" for District 3.
Nathan is a native to Shelby County and feels very blessed to be able to serve the members of his home county. He holds a degree from the University of Kentucky College of Agriculture in Natural Resource Conservation Management, and is active at his church where he serves as a deacon and on the Finance and Building & Grounds committees. Nathan and his wife, Jennifer, reside on their 200-acre farm with their three children.
Give Nathan a call for all your insurance needs. He will take care of you the only way he knows how… like he would his own family.
How can Nathan Franklin help you today?
Life's Blueprints: A KFB Insurance Blog
If a flood has occurred in your local area, there are several steps you can take to begin a safe and effective recovery.
The highest risk of severe thunderstorms and tornadoes in Kentucky typically occurs from March to June.
Floods are the nation's most common and costly natural disaster, producing millions of dollars of destruction every year, according to the National Flood Insurance Program.