Nathan Franklin Agent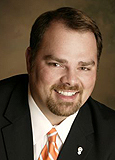 KFB Insurance Agent Since 2000
Nathan has been an agent with Kentucky Farm Bureau Insurance in Shelby County since 2000. Throughout this time, he has won numerous awards, including being named Kentucky Farm Bureau Insurance District 3 Agent of the Year in 2003. He currently serves as an Associate Director for the Shelby County A&M Association and on the Board of Directors for the Shelbyville/Shelby Chamber of Commerce
Nathan holds a degree in Natural Resource Conservation Management from the University of Kentucky. He resides on a 218-acre farm with his wife.
How can Nathan Franklin help you today?
Life's Blueprints: A KFB Insurance Blog
Children are 70 times more likely to get to school safely while on the school bus as opposed to riding in a car.
Is your little one going back to school or starting school for the very first time? Be sure to school them on proper bus stop etiquette!
Do you know who would be financially responsible for your belongings if your apartment caught on fire or was broken into? If you think that your landlord is on the hook for your stuff in the event of a catastrophe — think again.