Nathan Franklin Agent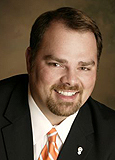 KFB Insurance Agent Since 2000
Nathan has been an agent with Kentucky Farm Bureau Insurance in Shelby County since 2000. Throughout this time, he has won numerous awards, including being named Kentucky Farm Bureau Insurance District 3 Agent of the Year in 2003. He currently serves as an Associate Director for the Shelby County A&M Association and on the Board of Directors for the Shelbyville/Shelby Chamber of Commerce
Nathan holds a degree in Natural Resource Conservation Management from the University of Kentucky. He resides on a 218-acre farm with his wife.
How can Nathan Franklin help you today?
KFB Spotlight
June 24, 2016

According to information from the USDA's Natural Resources Conservation Service, three-fourths of the world's flowering plants and about 35 percent of the world's food crops depend on animal pollinators to reproduce.
June 9, 2016

Heading into the summer, the state and county Farm Bureaus have provided 327 scholarship grants totaling $489,000 to students across the state.
June 6, 2016