Nathan Franklin Agent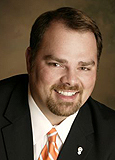 KFB Insurance Agent Since 2000
Nathan has been an agent with Kentucky Farm Bureau Insurance in Shelby County since 2000. Throughout this time, he has won numerous awards, including being named Kentucky Farm Bureau Insurance District 3 Agent of the Year in 2003. He currently serves as an Associate Director for the Shelby County A&M Association and on the Board of Directors for the Shelbyville/Shelby Chamber of Commerce
Nathan holds a degree in Natural Resource Conservation Management from the University of Kentucky. He resides on a 218-acre farm with his wife.
How can Nathan Franklin help you today?
KFB Spotlight
August 31, 2016

The Water Management Working Group has initiated many forward steps in opening up critical conversations about water issues.
August 31, 2016

Passage of the Trans-Pacific Partnership before the Presidential election may be difficult but worthwhile for agriculture.
August 31, 2016

KFB Candid Conversations presents a discussion about issues facing the dairy industry.