Nathan Franklin Agent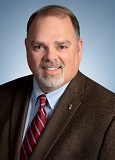 KFB Insurance Agent Since 2000
Nathan started his career with Kentucky Farm Bureau Insurance in May of 2000 and since then has won numerous awards and honors. In 2003, Nathan was named Kentucky Farm Bureau Mutual Insurance Company's "Agent of the Year" for District 3.
Nathan is a native to Shelby County and feels very blessed to be able to serve the members of his home county. He holds a degree from the University of Kentucky College of Agriculture in Natural Resource Conservation Management, and is active at his church where he serves as a deacon and on the Finance and Building & Grounds committees. Nathan and his wife, Jennifer, reside on their 200-acre farm with their three children.
Give Nathan a call for all your insurance needs. He will take care of you the only way he knows how… like he would his own family.
How can Nathan Franklin help you today?
Life's Blueprints: A KFB Insurance Blog
For millions of working Americans, employer-provided life insurance is a valuable perk. However, it may not provide enough coverage for your loved ones after you're gone. Check out this article for information on when it may be necessary to purchase additional coverage.
It's harvest time in the Bluegrass State! That means Kentucky drivers are pretty likely to encounter slow-moving farm equipment on the roadways.
Each year, the native white-tailed deer species is the cause of 150 human deaths and 1.5 million vehicle collisions nationally, according to the Insurance Institute for Highway Safety.