Mary Jo Newton Agent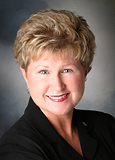 KFB Insurance Agent Since 2005
For 30 years, Mary Jo has helped Farm Bureau members protect their assets with Kentucky Farm Bureau Insurance. She started as a CSR in 1982 and became an Agent in 2005. During this time, she has won numerous awards including the National Multiline Sales Award (2006, 2007 and 2010) and the $6,000,000 Club in 2007 and $5,000,000 Club in 2009. Mary Jo understands that outstanding customer service is the lifeblood of any business. She believes in going the extra mile.
She is currently serving on the Leadership Shelby Board of Directors (1999-2013), served as President (2003-04) and was named the Alumna of the Year in 2011. She served as President of the Business and Professional Women's Club (2006-2008) and has served on the Shelby County Chamber of Commerce Board.
Mary Jo is a lifelong resident of Shelby County and still lives on the family farm in Bagdad, Kentucky. She earned a degree in Music from the University of Kentucky ('83). She has been an active member of Bagdad Baptist Church where she serves as a Deacon, Sunday School teacher and sings with the praise team. She also enjoys traveling, working outdoors and volleyball. Mary Jo is married to her husband of 30 years and has two children, a daughter and a son.
How can Mary Jo Newton help you today?
KFB Spotlight
Making the grade: Kentucky Farm Bureau offers five free professional development workshops for educators

May 26, 2016

Although the school year is rapidly coming to a close, the hard work that teachers put into classroom preparation and improving their instructional techniques continues on through the summer.
May 26, 2016

This year's University of Kentucky Agricultural Field Day set a record for attendance with more than 2,000 students from three states.
May 26, 2016

The University of Kentucky

College of Agriculture, Food and Environment recently completed work on a facility located at the Coldstream Dairy Research Farm that will help in dairy research efforts.