Union County Agency
Our Union County Agency is Ready to Meet All Your Insurance Needs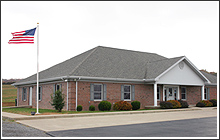 Kentucky Farm Bureau is the insurance company of choice for more than 1,900 Union County families. Union County's six member team serves our members with the level of dedication and service they expect and deserve. Our members enjoy great coverage and competitive rates on all of their insurance policies.
Our office is conveniently located in the heart of Union County, just south of Morganfield, at 1575 US HWY 60 W. Local claim service, affordable rates and a helpful, courteous staff are just a click or call away.
Meet Our Insurance Agents
How can the Union County Agency help you today?
Life's Blueprints: A KFB Insurance Blog
Kentucky is one of 16 states at the highest risk for earthquakes, according to the United States Geological Survey.
The average BAC (blood alcohol content) level during the game on Super Bowl Sunday in 2016 was 50% higher than the average level on other non-holiday Sundays.
While salt is good for the roads, it can be very bad for the cars on those roads. That magical substance used for de-icing can also de-paint your car.