Union County Agency
Our Union County Agency is Ready to Meet All Your Insurance Needs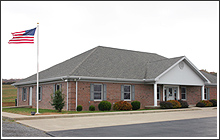 Kentucky Farm Bureau is the insurance company of choice for more than 1,800 Union County families. Union County's team serves our members with the level of dedication and service they expect and deserve. Our members enjoy great coverage and competitive rates on all of their insurance policies.
Our office is conveniently located in the heart of Union County, just south of Morganfield, at 1575 US HWY 60 W. Local claim service, affordable rates and a helpful, courteous staff are just a click or call away.
Meet Our Insurance Agents
How can the Union County Agency help you today?
Life's Blueprints: A KFB Insurance Blog
For millions of working Americans, employer-provided life insurance is a valuable perk. However, it may not provide enough coverage for your loved ones after you're gone. Check out this article for information on when it may be necessary to purchase additional coverage.
It's harvest time in the Bluegrass State! That means Kentucky drivers are pretty likely to encounter slow-moving farm equipment on the roadways.
Each year, the native white-tailed deer species is the cause of 150 human deaths and 1.5 million vehicle collisions nationally, according to the Insurance Institute for Highway Safety.