Union County Agency
Our Union County Agency is Ready to Meet All Your Insurance Needs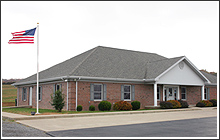 Kentucky Farm Bureau is the insurance company of choice for more than 1,900 Union County families. Union County's six member team serves our members with the level of dedication and service they expect and deserve. Our members enjoy great coverage and competitive rates on all of their insurance policies.
Our office is conveniently located in the heart of Union County, just south of Morganfield, at 1575 US HWY 60 W. Local claim service, affordable rates and a helpful, courteous staff are just a click or call away.
Meet Our Insurance Agents
How can the Union County Agency help you today?
KFB Insurance Learning Library
Children are 70 times more likely to get to school safely while on the school bus as opposed to riding in a car.
Is your little one going back to school or starting school for the very first time? Be sure to school them on proper bus stop etiquette!
Just this year, more than 20 children across the United States died from heatstroke in unattended cars. In the past two decades, that tally has exceeded more than 700.