Union County Agency
Our Union County Agency is Ready to Meet All Your Insurance Needs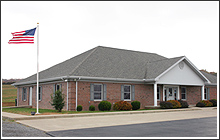 Kentucky Farm Bureau is the insurance company of choice for more than 1,800 Union County families. Union County's team serves our members with the level of dedication and service they expect and deserve. Our members enjoy great coverage and competitive rates on all of their insurance policies.
Our office is conveniently located in the heart of Union County, just south of Morganfield, at 1575 US HWY 60 W. Local claim service, affordable rates and a helpful, courteous staff are just a click or call away.
Meet Our Insurance Agents
How can the Union County Agency help you today?
Life's Blueprints: A KFB Insurance Blog
It's easy to compile your list of boating must-haves, but if you're forgetting safety, you could be heading for rough waters.
There's no doubt that fireworks are fun, but they're also the culprit of more than 10,000 hospital visits in the U.S. each year.
Did you know that a few misplaced items can cause entire loads of recycling to be rejected? Here's how some of your curbside recycling habits could be working against you.