Brad Clements Agent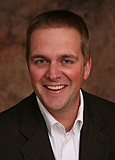 KFB Insurance Agent Since 1999
Brad Clements began his career as an agent in the Union County office in 1999 after graduating from Murray State University with a Bachelor's Degree in Ag Science. Brad was raised on a family farm here in Union County, where he now resides with his wife and children.
Brad works to meet the needs of the Union County members daily and he always takes the time for simple things, such as a detailed policy review. The ability to shift gears and adapt to the different needs of each customer while putting in the time to get the job done comes easy to Brad.
He loves working on the family farm and spending all of the time he can with family and friends.
How can Brad Clements help you today?
KFB Spotlight
October 19, 2016

Agriculture Commissioner Ryan Quarles encourages Kentucky school children to celebrate Farm to School Month in October and throughout the year.
October 18, 2016

The Office of Veterans Business Development recognized Patricia Krausman, director of the Elizabethtown Small Business Development Center, as one of the six most outstanding instructors for the 2016 Boots 2 Business program.
October 14, 2016

National Forest Products Week, Oct.16 – 22, recognizes the sustainable benefits of wood materials and their important role in the nation's economy.