Brad Clements Agent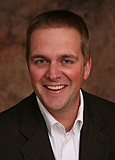 KFB Insurance Agent Since 1999
Brad Clements began his career as an agent in the Union County office in 1999 after graduating from Murray State University with a Bachelor's Degree in Ag Science. Brad was raised on a family farm here in Union County, where he now resides with his wife and children.
Brad works to meet the needs of the Union County members daily and he always takes the time for simple things, such as a detailed policy review. The ability to shift gears and adapt to the different needs of each customer while putting in the time to get the job done comes easy to Brad.
He loves working on the family farm and spending all of the time he can with family and friends.
How can Brad Clements help you today?
KFB Insurance Learning Library
Historically, mid- to late-January is when Kentuckians experience the lowest temperatures of the year. According to the 2016 Farmers' Almanac, Old Man Winter will be back with a vengeance this year, noting that "while last winter was a reprieve from shoveling and high fuel bills, the party is over."
Did you know that 49% of people said they would take photos or watch videos while driving through a parking lot, according to a National Safety Council survey?
As summer sun and warmer weather starts to give way to the chillier days of fall and winter, it becomes hibernation time for many recreational vehicles. Properly putting boats, RVs, muscle cars and motorcycles to bed requires a little more effort than parking them in the side yard.