Brad Clements Agent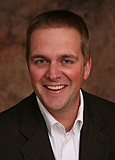 KFB Insurance Agent Since 1999
Brad Clements began his career as an agent in the Union County office in 1999 after graduating from Murray State University with a Bachelor's Degree in Ag Science. Brad was raised on a family farm here in Union County, where he now resides with his wife and children.
Brad works to meet the needs of the Union County members daily and he always takes the time for simple things, such as a detailed policy review. The ability to shift gears and adapt to the different needs of each customer while putting in the time to get the job done comes easy to Brad.
He loves working on the family farm and spending all of the time he can with family and friends.
How can Brad Clements help you today?
KFB Insurance Learning Library
Early examples of distracted driving studies go back as far as 1963, when scientist John Senders took to the roads blindfolded – all in the name of research.
Today, the number of cellphones in the U.S. surpasses the country's population. And according to a study by AT&T, 70 percent of people admit to using those cellphones while driving.
The automobile and tech industries have taken notice of distracted driving. Some tools have already been invented to curb the effects of this rampant roadway issue, while other technologies are quickly developing from budding ideas to larger-than-life innovations.