Brad Clements Agent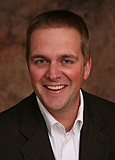 KFB Insurance Agent Since 1999
Brad Clements began his career as an agent in the Union County office in 1999 after graduating from Murray State University with a Bachelor's Degree in Ag Science. Brad was raised on a family farm here in Union County, where he now resides with his wife and children.
Brad works to meet the needs of the Union County members daily and he always takes the time for simple things, such as a detailed policy review. The ability to shift gears and adapt to the different needs of each customer while putting in the time to get the job done comes easy to Brad.
He loves working on the family farm and spending all of the time he can with family and friends.
How can Brad Clements help you today?
KFB Insurance Learning Library
If you're not properly prepared, a flat tire can quickly pump the brakes on your road trip high, leaving you stranded on the side of the road instead of purposefully parked on a sandy beach.
When it comes to the motorist-cyclist relationship, remember that it's a two-way street! A mutual respect between drivers and bicyclists must exist for each type of traveler to arrive at their destination safely.
Check out these extension cord do's and don'ts for National Electrical Safety Month.