Brad Clements Agent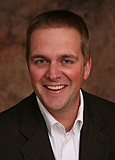 KFB Insurance Agent Since 1999
Brad Clements began his career as an agent in the Union County office in 1999 after graduating from Murray State University with a Bachelor's Degree in Ag Science. Brad was raised on a family farm here in Union County, where he now resides with his wife and children.
Brad works to meet the needs of the Union County members daily and he always takes the time for simple things, such as a detailed policy review. The ability to shift gears and adapt to the different needs of each customer while putting in the time to get the job done comes easy to Brad.
He loves working on the family farm and spending all of the time he can with family and friends.
How can Brad Clements help you today?
KFB Insurance Learning Library
Children are 70 times more likely to get to school safely while on the school bus as opposed to riding in a car.
Is your little one going back to school or starting school for the very first time? Be sure to school them on proper bus stop etiquette!
Just this year, more than 20 children across the United States died from heatstroke in unattended cars. In the past two decades, that tally has exceeded more than 700.