Brad Clements Agent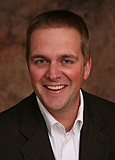 KFB Insurance Agent Since 1999
Brad Clements began his career as an agent in the Union County office in 1999 after graduating from Murray State University with a Bachelor's Degree in Ag Science. Brad was raised on a family farm here in Union County, where he now resides with his wife and children.
Brad works to meet the needs of the Union County members daily and he always takes the time for simple things, such as a detailed policy review. The ability to shift gears and adapt to the different needs of each customer while putting in the time to get the job done comes easy to Brad.
He loves working on the family farm and spending all of the time he can with family and friends.
How can Brad Clements help you today?
KFB Spotlight
May 20, 2016

The U.S. Department of Agriculture (USDA) announced in April the 2015 Local Food Marketing Practices Survey as part of its continued support of local and regional food systems.
May 18, 2016

Many homeowners impacted by the series of strong storms that have swept through Kentucky this month are now in need of contractors to repair damaged homes or clean up fallen debris.
May 11, 2016

Candidates for the 1st District Congressional race responded to policy questions on KFB Priority Issues.