Brad Clements Agent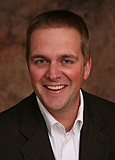 KFB Insurance Agent Since 1999
Brad Clements began his career as an agent in the Union County office in 1999 after graduating from Murray State University with a Bachelor's Degree in Ag Science. Brad was raised on a family farm here in Union County, where he now resides with his wife and children.
Brad works to meet the needs of the Union County members daily and he always takes the time for simple things, such as a detailed policy review. The ability to shift gears and adapt to the different needs of each customer while putting in the time to get the job done comes easy to Brad.
He loves working on the family farm and spending all of the time he can with family and friends.
How can Brad Clements help you today?
Life's Blueprints: A KFB Insurance Blog
Extension cords aren't simply plug-and-go tools, as so many people treat them. Follow these tips to ensure that your home stays safe when extension cords are in use.
Avoid a tree tragedy this holiday season! From 2011 to 2015, Christmas trees caused an average of 200 home fires, resulting in six deaths, 16 injuries, and $14.8 million in direct property damage annually.
Did you know that 49% of people said they would take photos or watch videos while driving through a parking lot, according to a National Safety Council survey?