Pat Murphy Agent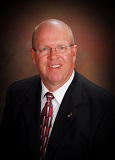 KFB Insurance Agent Since 1991
Pat began his career as a Kentucky Farm Bureau Insurance agent in 1991 and has won numerous awards while at KFB, including the company's "Agent of the Year" for District 3 in 2001. He also won 1st place among Shelby County insurance agents in The Sentinel-News' "Best Of" awards for 2013.
A graduate of Shelby County High School, Pat is a strong believer in giving back to his community. He serves as an Elder at Shelby Christian Church and is on the Missions Team there, traveling to Poland on many mission trips. Pat has been the Board Chairman for the Shelbyville/Shelby County Crime Stoppers organization since its inception in 2007.
An avid supporter of all local sports, Pat is a member of the Shelby County High School Athletic Hall of Fame, having served that school and Collins High School as statistician and scorekeeper. He has been a member of KHSAA state championship teams at both high schools.

How can Pat Murphy help you today?
Life's Blueprints: A KFB Insurance Blog
74 motorcyclists died on Kentucky roads in 2020, according to the Kentucky Office of Highway Safety. In the event of a crash, wearing a proper helmet may save your life.
Cruising the backroads of the Bluegrass on a bike is a great way to experience the scenic beauty of our state. However, driving or riding on a motorcycle can also be dangerous. Safe riding requires preparation, coordination, and excellent judgment.
One of the biggest mistakes people make when storing a vehicle for the winter is leaving the fuel gauge at its current level. Gasoline can go bad over the course of the season and cause damage that far exceeds the bill for a new tank of fuel.