Pat Murphy Agent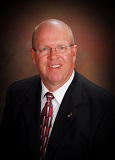 KFB Insurance Agent Since 1991
Pat began his career as a Kentucky Farm Bureau Insurance agent in 1991 and has won numerous awards while at KFB, including "Agent of the Year" in 2002.
A graduate of Shelby County High School (class of '79), Pat is a strong believer in giving back to his community. He serves as an Elder at Shelby Christian Church and as the Board Chairman for Shelbyville/Shelby County Crime Stoppers. He also serves on the Board of Directors for the Shelby County Community Foundation.
An avid supporter of all local sports, Pat volunteers as a statistician for the Collins High School football team and the scorebook keeper for the Collins boys basketball team.
How can Pat Murphy help you today?
Life's Blueprints: A KFB Insurance Blog
Do you know who would be financially responsible for your belongings if your apartment caught on fire or was broken into? If you think that your landlord is on the hook for your stuff in the event of a catastrophe — think again.
Kentucky is one of 16 states at the highest risk for earthquakes, according to the United States Geological Survey.
Grill fires cause an annual average of $37 million in property damage, according to the Insurance Information Institute (III).