Pat Murphy Agent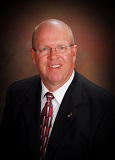 KFB Insurance Agent Since 1991
Pat began his career as a Kentucky Farm Bureau Insurance agent in 1991 and has won numerous awards while at KFB, including the company's "Agent of the Year" for District 3 in 2001. He also won 1st place among Shelby County insurance agents in The Sentinel-News' "Best Of" awards for 2013.
A graduate of Shelby County High School, Pat is a strong believer in giving back to his community. He serves as an Elder at Shelby Christian Church and is on the Missions Team there, traveling to Poland on many mission trips. Pat has been the Board Chairman for the Shelbyville/Shelby County Crime Stoppers organization since its inception in 2007.
An avid supporter of all local sports, Pat is a member of the Shelby County High School Athletic Hall of Fame, having served that school and Collins High School as statistician and scorekeeper. He has been a member of KHSAA state championship teams at both high schools.

How can Pat Murphy help you today?
Life's Blueprints: A KFB Insurance Blog
Do you ever wonder how your loved ones would fare should something ever happen to you? If someone depends on you financially, life insurance is a topic you shouldn't avoid.
REAL ID enforcement was originally scheduled to begin on Oct. 1, 2021. Full enforcement of the REAL ID act will now begin on May 3, 2023.
When it comes to the motorist-cyclist relationship, remember that it's a two-way street! A mutual respect between drivers and bicyclists must exist for each type of traveler to arrive at their destination safely.