Pat Murphy Agent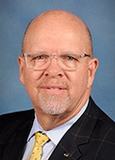 KFB Insurance Agent Since 1991
Pat began his career as a Kentucky Farm Bureau Insurance agent in 1991 and has won numerous awards while at KFB, including "Agent of the Year" in 2002.
A graduate of Shelby County High School (class of '79), Pat is a strong believer in giving back to his community. He serves as an Elder at Shelby Christian Church and as the Board Chairman for Shelbyville/Shelby County Crime Stoppers. He also serves on the Board of Directors for the Shelby County Community Foundation.
An avid supporter of all local sports, Pat volunteers as a statistician for the Collins High School football team and the scorebook keeper for the Collins boys basketball team.
How can Pat Murphy help you today?
Life's Blueprints: A KFB Insurance Blog
Did you know that 49% of people said they would take photos or watch videos while driving through a parking lot, according to a National Safety Council survey?
During the holiday season, emergency rooms nationwide are flooded with victims of holiday decor gone wrong.
Extension cords aren't simply plug-and-go tools, as so many people treat them. Follow these tips to ensure that your home stays safe when extension cords are in use.