Shelby County Branch
Our Shelby County Branch is Ready to Meet All Your Insurance Needs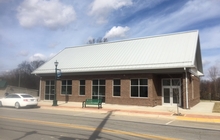 At the Shelbyville and Simpsonville offices, we treat members like family. Trust our staff of 15 licensed Agents and CSRs, with more than 100 years of combined underwriting experience, to make sure your assets are fully insured.

In addition to extended hours on Thursday evenings, we're happy to set-up an appoinment to fit your schedule. Our convenient locations include ample parking.
Meet Our Insurance Agents
How can the Shelby County Branch help you today?
Life's Blueprints: A KFB Insurance Blog
Homeowners impacted by strong storms may find themselves in need of contractors to repair damaged homes or clean up fallen debris. When major storms hit, it is not unusual for "storm chasing" contractors to arrive on the scene looking for work. Hiring these contractors can be risky.
Do you ever wonder how your loved ones would fare should something ever happen to you? If someone depends on you financially, life insurance is a topic you shouldn't avoid?
Tires were built to be indestructible. While that's great for your vehicle, it's bad news for the Earth. So what exactly happens to our tires once we're done with them?