Shelby County Branch
Our Shelby County Branch is Ready to Meet All Your Insurance Needs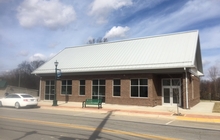 At the Shelbyville and Simpsonville offices, we treat members like family. Trust our staff of 15 licensed Agents and CSRs, with more than 100 years of combined underwriting experience, to make sure your assets are fully insured.

In addition to extended hours on Thursday evenings, we're happy to set-up an appoinment to fit your schedule. Our convenient locations include ample parking.
Meet Our Insurance Agents
How can the Shelby County Branch help you today?
Life's Blueprints: A KFB Insurance Blog
It's harvest time in the Bluegrass State! That means Kentucky drivers are pretty likely to encounter slow-moving farm equipment on the roadways.
Nearly 1 out of every 15 homes in the U.S. is estimated to have elevated radon levels, according to the EPA.
Citizens can choose between standard or travel credential; all cards will arrive in mail