Ferenc Vegh Jr Agent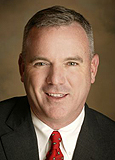 KFB Insurance Agent Since 2000
Ferenc has been an agent with Kentucky Farm Bureau Insurance in Shelby County since 2000. During this time, he has won numerous awards, including a first year agent award in 2000 and four casualty production awards. His community involvement includes eight years with the Shelby County Fair Board and Kiwanis Club of Shelbyville.
Ferenc holds degrees in music from the University of Louisville and Yale, and was a member of the U.S.Marine Band from 1981-1985. He has previously served as the Director of Bands for Shelby County High School. While serving in this position, his band played for two U.S.Presidents, one U.S.Senate Majority Leader, two Kentucky Governors and earned superior ratings at the Kentucky Music Educators Association Band Festival each year he was the director. He resides on a 400-acre farm.
How can Ferenc Vegh Jr help you today?
KFB Spotlight
December 9, 2016

A healthy export market is highly important to all U.S industries and agriculture is no exception. Agricultural exports from this country are expected to be in the $127 billion range for 2016 and higher in 2017 at a projected $133 billion.
December 2, 2016