Greg Beavin Agency Manager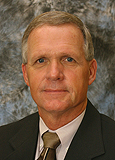 KFB Insurance Agent Since 1974 · CLU
Greg Beavin has been a Kentucky Farm Bureau insurance agent for more than three decades, and it's something he takes great pride in. Being a KFB agent gives him the opportunity to offer his clients quality financial products, and because he lives and works in the same community as them he can be there almost immediately if a crisis occurs. And he is. Ask any of his satisfied clients. Greg doesn't just live in Meade County; he is an active member of the community.
He's on the School Board, the local Chamber of Commerce, and he coached football, basketball and little league baseball for more than 20 years. His commitment to his community, his clients, his church and his family are a testament to the type of agent Kentucky Farm Bureau attracts.
How can Greg Beavin help you today?
KFB Spotlight
June 28, 2016

Please complete and submit applications to the KFB state office no later than October 7, 2016.
June 24, 2016

According to information from the USDA's Natural Resources Conservation Service, three-fourths of the world's flowering plants and about 35 percent of the world's food crops depend on animal pollinators to reproduce.
June 9, 2016

Heading into the summer, the state and county Farm Bureaus have provided 327 scholarship grants totaling $489,000 to students across the state.