Greg Beavin Agency Manager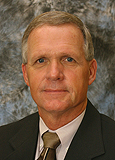 KFB Insurance Agent Since 1974 · CLU
Greg Beavin has been a Kentucky Farm Bureau insurance agent for more than three decades, and it's something he takes great pride in. Being a KFB agent gives him the opportunity to offer his clients quality financial products, and because he lives and works in the same community as them he can be there almost immediately if a crisis occurs. And he is. Ask any of his satisfied clients. Greg doesn't just live in Meade County; he is an active member of the community.
He's on the School Board, the local Chamber of Commerce, and he coached football, basketball and little league baseball for more than 20 years. His commitment to his community, his clients, his church and his family are a testament to the type of agent Kentucky Farm Bureau attracts.
How can Greg Beavin help you today?
Life's Blueprints: A KFB Insurance Blog
We're all for enjoying Kentucky's beautiful sights via four-wheeler, but practice these tips to help keep ATV injuries and fatalities down in 2019.
Are you doing all you can to reduce your environmental footprint when behind the wheel? Read on to find out.
When it comes to the motorist-cyclist relationship, remember that it's a two-way street! A mutual respect between drivers and bicyclists must exist for each type of traveler to arrive at their destination safely.