Greg Beavin Agency Manager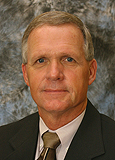 KFB Insurance Agent Since 1974 · CLU
Greg Beavin has been a Kentucky Farm Bureau insurance agent for more than three decades, and it's something he takes great pride in. Being a KFB agent gives him the opportunity to offer his clients quality financial products, and because he lives and works in the same community as them he can be there almost immediately if a crisis occurs. And he is. Ask any of his satisfied clients. Greg doesn't just live in Meade County; he is an active member of the community.
He's on the School Board, the local Chamber of Commerce, and he coached football, basketball and little league baseball for more than 20 years. His commitment to his community, his clients, his church and his family are a testament to the type of agent Kentucky Farm Bureau attracts.
How can Greg Beavin help you today?
Life's Blueprints: A KFB Insurance Blog
Did you know that 49% of people said they would take photos or watch videos while driving through a parking lot, according to a National Safety Council survey?
During the holiday season, emergency rooms nationwide are flooded with victims of holiday decor gone wrong.
Avoid a tree tragedy this holiday season! From 2010 to 2014, Christmas trees caused an average of 210 home fires, resulting in six deaths, 16 injuries, and $16.2 million in direct property damage annually.