Greg Beavin Agency Manager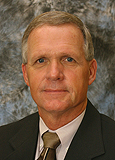 KFB Insurance Agent Since 1974 · CLU
Greg Beavin has been a Kentucky Farm Bureau insurance agent for more than three decades, and it's something he takes great pride in. Being a KFB agent gives him the opportunity to offer his clients quality financial products, and because he lives and works in the same community as them he can be there almost immediately if a crisis occurs. And he is. Ask any of his satisfied clients. Greg doesn't just live in Meade County; he is an active member of the community.
He's on the School Board, the local Chamber of Commerce, and he coached football, basketball and little league baseball for more than 20 years. His commitment to his community, his clients, his church and his family are a testament to the type of agent Kentucky Farm Bureau attracts.
How can Greg Beavin help you today?
Life's Blueprints: A KFB Insurance Blog
Thanksgiving is the peak day for home cooking fires. In 2015, U.S. fire departments responded to more than 1,700 on that day alone.
One of the biggest mistakes people make when storing a vehicle for the winter is leaving the fuel gauge at its current level. Gasoline can go bad in as little as 60 days and cause damage that far exceeds the bill for a new tank of fuel.
Although the use of asbestos has been regulated by government agencies since the 1970s, it still exists in many homes across the U.S.