Jeanna Turner Agent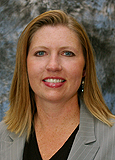 KFB Insurance Agent Since 1992 · LUTCF
Jeanna Turner has been a Meade County Farm Bureau agent since 1992. As a multi-line insurance agent, Jeanna provides property and casualty insurance along with a variety of life and health insurance products. She takes great pride in working for KFB, the largest provider of casualty and property insurance domiciled in the state.
A life-long resident of Meade County, Jeanna and her husband, a history teacher at a local school, stay busy raising their two children. They are active members of their church and enjoy sports and family fun.
A graduate of Bellarmine University, Jeanna was a member of the Women's Basketball team. These days she enjoys watching her kids play basketball. Her daughter, Morgan, plays for Lipscomb University and her son, Casey, plays for Meade County. You can rest assured that when it comes to your insurance needs, she'll provide a full court press! Visit Jeanna at our Brandenburg office.
How can Jeanna Turner help you today?
Life's Blueprints: A KFB Insurance Blog
Distracted driving is no laughing matter -- just ask Tareena Horton. On Valentine's Day in 2009, the Breckinridge County resident learned first-hand just how quickly an innocent distraction can turn into a life-altering event.
Today, the number of cellphones in the U.S. surpasses the country's population. And according to a study by AT&T, 70 percent of people admit to using those cellphones while driving.
The auto and tech industries have taken notice of distracted driving. Some tools have already been invented to curb the effects, while other technologies are quickly developing from budding ideas to larger-than-life innovations.