Jeanna Turner Agent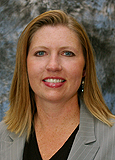 KFB Insurance Agent Since 1992 · LUTCF
Jeanna Turner has been a Meade County Farm Bureau agent since 1992. As a multi-line insurance agent, Jeanna provides property and casualty insurance along with a variety of life and health insurance products. She takes great pride in working for KFB, the largest provider of casualty and property insurance domiciled in the state.
A life-long resident of Meade County, Jeanna and her husband, a principal at a local school, stay busy raising their two children. They are active members of their church and enjoy sports and family fun.
A graduate of Bellarmine University, Jeanna was a member of the Women's Basketball team. She continues to be involved with the sport, coaching youth league and AAU basketball teams. You can rest assured that when it comes to your insurance needs, she'll provide a full court press! Visit Jeanna at our Brandenburg office.
How can Jeanna Turner help you today?
KFB Spotlight
July 20, 2016

Thanks to funding from the Kentucky Agricultural Development Board, the University of Kentucky Grains Center of Excellence will help advance Kentucky agriculture for decades.
July 19, 2016

Please complete and submit applications to the KFB state office no later than October 14, 2016.
July 18, 2016

KFB Candid Conversations presents a discussion about the topical issues facing the agricultural industry.