Jeanna Turner Agent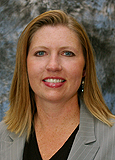 KFB Insurance Agent Since 1992 · LUTCF
Jeanna Turner has been a Meade County Farm Bureau agent since 1992. As a multi-line insurance agent, Jeanna provides property and casualty insurance along with a variety of life and health insurance products. She takes great pride in working for KFB, the largest provider of casualty and property insurance domiciled in the state.
A life-long resident of Meade County, Jeanna and her husband, a history teacher at a local school, stay busy raising their two children. They are active members of their church and enjoy sports and family fun.
A graduate of Bellarmine University, Jeanna was a member of the Women's Basketball team. These days she enjoys watching her kids play basketball. Her daughter, Morgan, plays for Lipscomb University and her son, Casey, plays for Meade County. You can rest assured that when it comes to your insurance needs, she'll provide a full court press! Visit Jeanna at our Brandenburg office.
How can Jeanna Turner help you today?
KFB Insurance Learning Library
A little more than two hundred years ago, a Cornish chemist by the name of Sir Humphry Davy connected wires to a battery and a piece of carbon, causing the carbon to glow. This seemingly insignificant event was the first step toward a life-changing, modern convenience we have all come to know and love: electric lighting.
Early examples of distracted driving studies go back as far as 1963, when scientist John Senders took to the roads blindfolded – all in the name of research.
The automobile and tech industries have taken notice of distracted driving. Some tools have already been invented to curb the effects of this rampant roadway issue, while other technologies are quickly developing from budding ideas to larger-than-life innovations.