Jeanna Turner Agent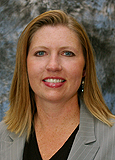 KFB Insurance Agent Since 1992 · LUTCF
Jeanna Turner has been a Meade County Farm Bureau agent since 1992. As a multi-line insurance agent, Jeanna provides property and casualty insurance along with a variety of life and health insurance products. She takes great pride in working for KFB, the largest provider of casualty and property insurance domiciled in the state.
A life-long resident of Meade County, Jeanna and her husband, a history teacher at a local school, stay busy raising their two children. They are active members of their church and enjoy sports and family fun.
A graduate of Bellarmine University, Jeanna was a member of the Women's Basketball team. These days she enjoys watching her kids play basketball. Her daughter, Morgan, plays for Lipscomb University and her son, Casey, plays for Meade County. You can rest assured that when it comes to your insurance needs, she'll provide a full court press! Visit Jeanna at our Brandenburg office.
How can Jeanna Turner help you today?
Life's Blueprints: A KFB Insurance Blog
We're all for enjoying Kentucky's beautiful sights via four-wheeler, but practice these tips to help keep ATV injuries and fatalities down in 2019.
Are you doing all you can to reduce your environmental footprint when behind the wheel? Read on to find out.
When it comes to the motorist-cyclist relationship, remember that it's a two-way street! A mutual respect between drivers and bicyclists must exist for each type of traveler to arrive at their destination safely.