Jeanna Turner Agent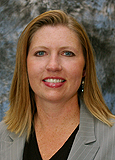 KFB Insurance Agent Since 1992 · LUTCF
Jeanna Turner has been a Meade County Farm Bureau agent since 1992. As a multi-line insurance agent, Jeanna provides property and casualty insurance along with a variety of life and health insurance products. She takes great pride in working for KFB, the largest provider of casualty and property insurance domiciled in the state.
A life-long resident of Meade County, Jeanna and her husband, a history teacher at a local school, stay busy raising their two children. They are active members of their church and enjoy sports and family fun.
A graduate of Bellarmine University, Jeanna was a member of the Women's Basketball team. These days she enjoys watching her kids play basketball. Her daughter, Morgan, plays for Lipscomb University and her son, Casey, plays for Meade County. You can rest assured that when it comes to your insurance needs, she'll provide a full court press! Visit Jeanna at our Brandenburg office.
How can Jeanna Turner help you today?
Life's Blueprints: A KFB Insurance Blog
Homeowners impacted by strong storms may find themselves in need of contractors to repair damaged homes or clean up fallen debris. When major storms hit, it is not unusual for "storm chasing" contractors to arrive on the scene looking for work. Hiring these contractors can be risky.
Do you ever wonder how your loved ones would fare should something ever happen to you? If someone depends on you financially, life insurance is a topic you shouldn't avoid?
Tires were built to be indestructible. While that's great for your vehicle, it's bad news for the Earth. So what exactly happens to our tires once we're done with them?