Meade County Agency
Our Meade County Agency is Ready to Meet All Your Insurance Needs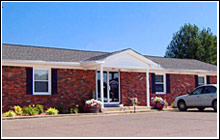 Our policyholders know us, because we live where they live. They trust us because we've earned it. And because of this, they're confident in our ability to take care of them, their families and their property in a crisis.
Advice from someone you trust may be a good thing, but it takes more than just that to keep you as a satisfied customer. It takes quality, consistent service from agents committed to putting your needs first.
We're your local Farm Bureau Insurance agents, with more than 30 years of quality service to our friends and neighbors in the community. And like all Kentucky Farm Bureau Agents, we're big on commitment!
Meet Our Insurance Agents
How can the Meade County Agency help you today?
Life's Blueprints: A KFB Insurance Blog
A study on fatal crashes that occurred between 2009 and 2013 found that rain caused more driving fatalities than snow in 39 of the 50 states.
Are you doing all you can to reduce your environmental footprint when behind the wheel? Read on to find out.
Early examples of distracted driving studies go back as far as 1963, when scientist John Senders took to the roads blindfolded – all in the name of research.