Meade County Agency
Our Meade County Agency is Ready to Meet All Your Insurance Needs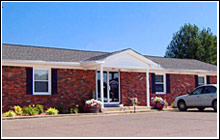 Our policyholders know us, because we live where they live. They trust us because we've earned it. And because of this, they're confident in our ability to take care of them, their families and their property in a crisis.
Advice from someone you trust may be a good thing, but it takes more than just that to keep you as a satisfied customer. It takes quality, consistent service from agents committed to putting your needs first.
We're your local Farm Bureau Insurance agents, with more than 30 years of quality service to our friends and neighbors in the community. And like all Kentucky Farm Bureau Agents, we're big on commitment!
Meet Our Insurance Agents
How can the Meade County Agency help you today?
Life's Blueprints: A KFB Insurance Blog
Extension cords aren't simply plug-and-go tools, as so many people treat them. Follow these tips to ensure that your home stays safe when extension cords are in use.
Avoid a tree tragedy this holiday season! From 2011 to 2015, Christmas trees caused an average of 200 home fires, resulting in six deaths, 16 injuries, and $14.8 million in direct property damage annually.
Did you know that 49% of people said they would take photos or watch videos while driving through a parking lot, according to a National Safety Council survey?