Meade County Agency
Our Meade County Agency is Ready to Meet All Your Insurance Needs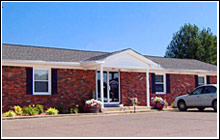 Our policyholders know us, because we live where they live. They trust us because we've earned it. And because of this, they're confident in our ability to take care of them, their families and their property in a crisis.
Advice from someone you trust may be a good thing, but it takes more than just that to keep you as a satisfied customer. It takes quality, consistent service from agents committed to putting your needs first.
We're your local Farm Bureau Insurance agents, with more than 30 years of quality service to our friends and neighbors in the community. And like all Kentucky Farm Bureau Agents, we're big on commitment!
Meet Our Insurance Agents
How can the Meade County Agency help you today?
Life's Blueprints: A KFB Insurance Blog
According to the Insurance Information Institute (III), approximately 75,000 people are seriously injured each year when mowing their lawn.
As you ready your family for the summer adventures ahead, don't forget to prep your home for your absence. Put your mind at ease by following these eight tips to prepare your home for summer vacation.
If you're not properly prepared, a flat tire can quickly pump the brakes on your road trip high, leaving you stranded on the side of the road instead of purposefully parked on a sandy beach.