Central Agency
Our Central Agency is Ready to Meet All Your Insurance Needs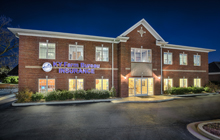 Mission Statement
We are a Kentucky Farm Bureau Mutual Insurance Agency offering a service to the members of Daviess County Farm Bureau as well as other business and community partners.
We strive to give a superior customer service experience that members desire and have a right to expect. We pride ourselves in being able to bring security, value, and peace of mind to our members with professional knowledge, quality products and claims service.
All associates maintain and ethical, reputable, and professional image in our community, while striving to be a "preferred and referred" source for insurance services.
Gavin C. Roberts- Agency Manager
Meet Our Insurance Agents
How can the Central Agency help you today?
Life's Blueprints: A KFB Insurance Blog
Avoid a tree tragedy this holiday season! From 2010 to 2014, Christmas trees caused an average of 210 home fires, resulting in six deaths, 16 injuries, and $16.2 million in direct property damage annually.
Did you know that 49% of people said they would take photos or watch videos while driving through a parking lot, according to a National Safety Council survey?
During the holiday season, emergency rooms nationwide are flooded with victims of holiday decor gone wrong.