Central Agency
Our Central Agency is Ready to Meet All Your Insurance Needs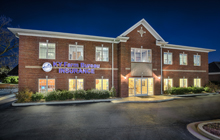 Mission Statement
We are a Kentucky Farm Bureau Mutual Insurance Agency offering a service to the members of Daviess County Farm Bureau as well as other business and community partners.
We strive to give a superior customer service experience that members desire and have a right to expect. We pride ourselves in being able to bring security, value, and peace of mind to our members with professional knowledge, quality products and claims service.
All associates maintain and ethical, reputable, and professional image in our community, while striving to be a "preferred and referred" source for insurance services.
Gavin C. Roberts- Agency Manager
Meet Our Insurance Agents
How can the Central Agency help you today?
Life's Blueprints: A KFB Insurance Blog
One of the biggest mistakes people make when storing a vehicle for the winter is leaving the fuel gauge at its current level. Gasoline can go bad in as little as 60 days and cause damage that far exceeds the bill for a new tank of fuel.
Although the use of asbestos has been regulated by government agencies since the 1970s, it still exists in many homes across the U.S.
The soft leaves, pine needles, saplings and debris in your gutters are perfect home-building materials for invasive critters such as squirrels, possums, birds and cockroaches.