Central Agency
Our Central Agency is Ready to Meet All Your Insurance Needs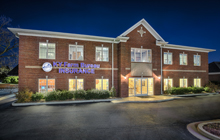 Mission Statement
We are a Kentucky Farm Bureau Mutual Insurance Agency offering a service to the members of Daviess County Farm Bureau as well as other business and community partners.
We strive to give a superior customer service experience that members desire and have a right to expect. We pride ourselves in being able to bring security, value, and peace of mind to our members with professional knowledge, quality products and claims service.
All associates maintain and ethical, reputable, and professional image in our community, while striving to be a "preferred and referred" source for insurance services.
Gavin C. Roberts- Agency Manager
Meet Our Insurance Agents
How can the Central Agency help you today?
Life's Blueprints: A KFB Insurance Blog
It's harvest time in the Bluegrass State! That means Kentucky drivers are pretty likely to encounter slow-moving farm equipment on the roadways.
Do you know who would be financially responsible for your belongings if your apartment caught on fire or was broken into? If you think that your landlord is on the hook for your stuff in the event of a catastrophe — think again.
Do you ever wonder how your loved ones would fare should something ever happen to you? If someone depends on you financially, life insurance is a topic you shouldn't avoid?