Central Agency
Our Central Agency is Ready to Meet All Your Insurance Needs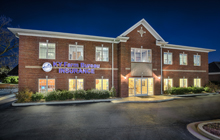 Mission Statement
We are a Kentucky Farm Bureau Mutual Insurance Agency offering a service to the members of Daviess County Farm Bureau as well as other business and community partners.
We strive to give a superior customer service experience that members desire and have a right to expect. We pride ourselves in being able to bring security, value, and peace of mind to our members with professional knowledge, quality products and claims service.
All associates maintain and ethical, reputable, and professional image in our community, while striving to be a "preferred and referred" source for insurance services.
Gavin C. Roberts- Agency Manager
Meet Our Insurance Agents
How can the Central Agency help you today?
Life's Blueprints: A KFB Insurance Blog
Is your little one going back to school or starting school for the very first time? Be sure to school them on proper bus stop etiquette!
Children are 70 times more likely to get to school safely while on the school bus as opposed to riding in a car.
A record number of children died in hot cars in 2018.