Central Agency
Our Central Agency is Ready to Meet All Your Insurance Needs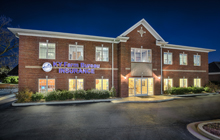 Mission Statement
We are a Kentucky Farm Bureau Mutual Insurance Agency offering a service to the members of Daviess County Farm Bureau as well as other business and community partners.
We strive to give a superior customer service experience that members desire and have a right to expect. We pride ourselves in being able to bring security, value, and peace of mind to our members with professional knowledge, quality products and claims service.
All associates maintain and ethical, reputable, and professional image in our community, while striving to be a "preferred and referred" source for insurance services.
Gavin C. Roberts- Agency Manager
Meet Our Insurance Agents
How can the Central Agency help you today?
Life's Blueprints: A KFB Insurance Blog
We're all for enjoying Kentucky's beautiful sights via four-wheeler, but practice these tips to help keep ATV injuries and fatalities down in 2019.
Are you doing all you can to reduce your environmental footprint when behind the wheel? Read on to find out.
When it comes to the motorist-cyclist relationship, remember that it's a two-way street! A mutual respect between drivers and bicyclists must exist for each type of traveler to arrive at their destination safely.