Alex Bryant Agent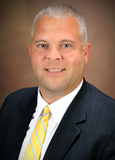 KFB Insurance Agent Since 2014
Hello and welcome to the Kentucky Farm Bureau Insurance, Central Daviess County agency. As your local insurance agent, I'm right here in your community—ready to serve you. Call me today and let's discuss your specific situation. I'll help you make sure you and your assets are protected with the correct level of insurance coverage.
In the event of a loss, you can count on Kentucky Farm Bureau Insurance to help you through it. Our local claims office and adjusters are close by when you need them. We are knowledgeable about our community and can provide valuable assistance and advice when needed.
Call me today for a free, no-obligation quote.
How can Alex Bryant help you today?
Life's Blueprints: A KFB Insurance Blog
If a flood has occurred in your local area, there are several steps you can take to begin a safe and effective recovery.
The highest risk of severe thunderstorms and tornadoes in Kentucky typically occurs from March to June.
Floods are the nation's most common and costly natural disaster, producing millions of dollars of destruction every year, according to the National Flood Insurance Program.