Mike Crane Agency Manager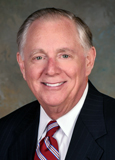 KFB Insurance Agent Since 1975
Mike has lived in Boone County his entire life. He loves the area and the people, and he and his wife of forty-six years, Beth, wouldn't live anywhere else.
Mike feels the same way about Kentucky Farm Bureau (KFB), where he's been a fixture for 39 years on December 1, 2014. Why? Because KFB has given him the opportunity to make a living doing what he really cares about: helping others.
To provide better customer service, Mike is adamant about education for his team. Their knowledge helps to provide customers with professional guidance through the insurance process.
Mike's belief in KFB dates back to his father-in-law, Joe Domaschko, who introduced him to KFB in the late 1960's. Joe Domaschko served as the Boone County Farm Bureau President for several years and literally loved KFB. He helped Mike understand working for KFB is more than a job, it's a commitment. Ask anyone who really knows Mike. KFB and the relationships he builds with his KFB customers are his top priority. When you need help, Mike will be there.
How can Mike Crane help you today?
KFB Spotlight
October 26, 2016

Fall is the time of year in which many festival-type events are held, mostly in honor of food. The Browning Orchard Festival is no different but along with it being a celebration of the foods that are grown there, it is also a classroom for the agriculture programs at Morehead State University.
October 24, 2016

After a slight increase in food prices was experienced during the second quarter of 2016, third quarter results returned to declines.
October 19, 2016

Agriculture Commissioner Ryan Quarles encourages Kentucky school children to celebrate Farm to School Month in October and throughout the year.