Mike Crane Agency Manager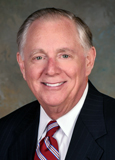 KFB Insurance Agent Since 1975
Mike has lived in Boone County his entire life. He loves the area and the people, and he and his wife of forty-six years, Beth, wouldn't live anywhere else.
Mike feels the same way about Kentucky Farm Bureau (KFB), where he's been a fixture for 39 years on December 1, 2014. Why? Because KFB has given him the opportunity to make a living doing what he really cares about: helping others.
To provide better customer service, Mike is adamant about education for his team. Their knowledge helps to provide customers with professional guidance through the insurance process.
Mike's belief in KFB dates back to his father-in-law, Joe Domaschko, who introduced him to KFB in the late 1960's. Joe Domaschko served as the Boone County Farm Bureau President for several years and literally loved KFB. He helped Mike understand working for KFB is more than a job, it's a commitment. Ask anyone who really knows Mike. KFB and the relationships he builds with his KFB customers are his top priority. When you need help, Mike will be there.
How can Mike Crane help you today?
KFB Insurance Learning Library
For the most part, the days of black ice and snowy roads are behind us – but don't let your guard down! The rainy season is now upon us.
A little more than two hundred years ago, a Cornish chemist by the name of Sir Humphry Davy connected wires to a battery and a piece of carbon, causing the carbon to glow. This seemingly insignificant event was the first step toward a life-changing, modern convenience we have all come to know and love: electric lighting.
Early examples of distracted driving studies go back as far as 1963, when scientist John Senders took to the roads blindfolded – all in the name of research.