Mike Crane Agency Manager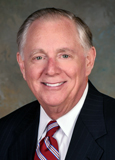 KFB Insurance Agent Since 1975
Mike has lived in Boone County his entire life. He loves the area and the people, and he and his wife of forty-six years, Beth, wouldn't live anywhere else.
Mike feels the same way about Kentucky Farm Bureau (KFB), where he's been a fixture for 39 years on December 1, 2014. Why? Because KFB has given him the opportunity to make a living doing what he really cares about: helping others.
To provide better customer service, Mike is adamant about education for his team. Their knowledge helps to provide customers with professional guidance through the insurance process.
Mike's belief in KFB dates back to his father-in-law, Joe Domaschko, who introduced him to KFB in the late 1960's. Joe Domaschko served as the Boone County Farm Bureau President for several years and literally loved KFB. He helped Mike understand working for KFB is more than a job, it's a commitment. Ask anyone who really knows Mike. KFB and the relationships he builds with his KFB customers are his top priority. When you need help, Mike will be there.
How can Mike Crane help you today?
KFB Insurance Learning Library
Historically, mid- to late-January is when Kentuckians experience the lowest temperatures of the year. According to the 2016 Farmers' Almanac, Old Man Winter will be back with a vengeance this year, noting that "while last winter was a reprieve from shoveling and high fuel bills, the party is over."
Did you know that 49% of people said they would take photos or watch videos while driving through a parking lot, according to a National Safety Council survey?
As summer sun and warmer weather starts to give way to the chillier days of fall and winter, it becomes hibernation time for many recreational vehicles. Properly putting boats, RVs, muscle cars and motorcycles to bed requires a little more effort than parking them in the side yard.