Mike Crane Agency Manager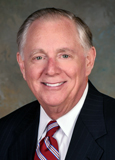 KFB Insurance Agent Since 1975
Mike has lived in Boone County his entire life. He loves the area and the people, and he and his wife of forty-six years, Beth, wouldn't live anywhere else.
Mike feels the same way about Kentucky Farm Bureau (KFB), where he's been a fixture for 39 years on December 1, 2014. Why? Because KFB has given him the opportunity to make a living doing what he really cares about: helping others.
To provide better customer service, Mike is adamant about education for his team. Their knowledge helps to provide customers with professional guidance through the insurance process.
Mike's belief in KFB dates back to his father-in-law, Joe Domaschko, who introduced him to KFB in the late 1960's. Joe Domaschko served as the Boone County Farm Bureau President for several years and literally loved KFB. He helped Mike understand working for KFB is more than a job, it's a commitment. Ask anyone who really knows Mike. KFB and the relationships he builds with his KFB customers are his top priority. When you need help, Mike will be there.
How can Mike Crane help you today?
Life's Blueprints: A KFB Insurance Blog
As you ready your family for the summer adventures ahead, don't forget to prep your home for your absence. Put your mind at ease by following these eight tips to prepare your home for summer vacation.
In 2017, more than 40 children across the United States died from heatstroke in unattended cars. In the past two decades, that tally has exceeded more than 700.
Grill fires cause an annual average of $37 million in property damage, according to the Insurance Information Institute (III).