Testimonials
Burlington Agency testimonials.
Mike and his team are always very helpful. Whenever we've had a claim, they've been there to help. They truly treat you like family.
Gary Anderson made a call to the Boone County Farm Bureau office. He needed eight copies of proof of insurance. Minutes later he was standing at the counter and those copies were ready. "This is why I come here. These ladies are the best. This doesn't happen anywhere else. They will do what no other insurance company would do. I love them to death." Gary became a Boone County KFB customer at the age of 15, when he bought his first tractor. A cattle and tobacco farmer, Gary says that Mike and his team have always been great to him. One time he had some flooding in his house with damaged dry wall and carpeting, and Farm Bureau called the same day. A popcorn lover, if they know he's coming, they always have a fresh bag ready for him.
"My mom brought me into Boone County Farm Bureau when I was 16 and I've been a customer ever since." Jake McKinney can't say enough about the quality service the Boone County Kentucky Farm Bureau provides him. A local builder, Jakes says as his business has grown, the Boone County Farm Bureau team has helped with his insurance needs every step of the way. In his younger years, Jake admits he wasn't the best driver getting into a few fender benders, but even though he had to file a claim or two, his rates didn't jump through the roof and those claims were processed quickly, with the type of professional service you'd expect from Kentucky Farm Bureau. Jake will tell you that Mike and his team make you feel like family. "I'm not just an account number, I'm a valued client. That's why when my sons are 16, I'll bring them to Boone County Farm Bureau, just like my mom did."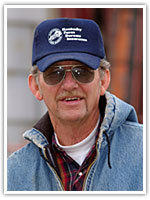 The Johnsons have never had insurance with anyone other than Boone County Kentucky Farm Bureau. Eddie grew up with Mike Crane, so the decision was easy. He knew Mike was the type of insurance agent that would treat you like family. Personable, helpful and always willing to go the extra mile, that's how Eddie describes the entire Boone County KFB team. A local farmer, Eddie says whenever he needed help or advice Mike and his team were there to solve the problem. He wouldn't recommend anyone other than Mike Crane and Boone County Farm Bureau to take care of your insurance needs.
Life's Blueprints: A KFB Insurance Blog
It's tempting to crank up that space heater for some extra bedroom warmth or to de-ice your cold toes at the office, but take these precautions before turning that dial to the maximum setting.
Frozen water can wreak havoc on metal or plastic pipes, no matter their strength. According to the Insurance Institute for Business and Home Safety, a 1/8th inch crack in a pipe can spew up to 250 gallons of water a day!
An accurate and up-to-date home inventory can help you make sure you initially elect the right amount of insurance protection, and in the event of a loss, it can make filing a claim much simpler.