Meade County Branch
Our Meade County Branch is Ready to Meet All Your Insurance Needs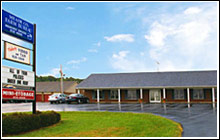 Our policyholders know us, because we live where they live. They trust us because we've earned it. And because of this, they're confident in our ability to take care of them, their families and their property in a crisis.
Advice from someone you trust may be a good thing, but it takes more than just that to keep you as a satisfied customer. It takes quality, consistent service from agents committed to putting your needs first.
We're your local Farm Bureau Insurance agents, with more than 30 years of quality service to our friends and neighbors in the community. And like all Kentucky Farm Bureau Agents, we're big on commitment!
Meet Our Insurance Agents
How can the Meade County Branch help you today?
Life's Blueprints: A KFB Insurance Blog
It's harvest time in the Bluegrass State! That means Kentucky drivers are pretty likely to encounter slow-moving farm equipment on the roadways.
Nearly 1 out of every 15 homes in the U.S. is estimated to have elevated radon levels, according to the EPA.
Citizens can choose between standard or travel credential; all cards will arrive in mail