John Beavin Agent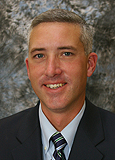 KFB Insurance Agent Since 1996 · LUTCF
John Beavin grew up watching his father and mother help people in times of trouble. That was his motivation for becoming a KFB insurance agent, back in 1996, after graduating from the University of Kentucky.
This devoted husband is also a father of two boys and a girl. John is heavily involved in the Meade Activity Center as board chairman. He thoroughly enjoys coaching local youth sports teams and watching UK football and Basketball. In his spare time he loves to be outdoors on the golf course, on the water, or in the woods.
Being with KFB gives John the opportunity to do something else he enjoys, offering a valuable service to the people of his hometown. John manages our Flaherty office, and will give you the kind of personal attention you need when making important insurance decisions.
How can John Beavin help you today?
KFB Insurance Learning Library
If you're not properly prepared, a flat tire can quickly pump the brakes on your road trip high, leaving you stranded on the side of the road instead of purposefully parked on a sandy beach.
When it comes to the motorist-cyclist relationship, remember that it's a two-way street! A mutual respect between drivers and bicyclists must exist for each type of traveler to arrive at their destination safely.
Check out these extension cord do's and don'ts for National Electrical Safety Month.