John Beavin Agent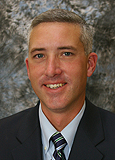 KFB Insurance Agent Since 1996 · LUTCF
John Beavin grew up watching his father and mother help people in times of trouble. That was his motivation for becoming a KFB insurance agent, back in 1996, after graduating from the University of Kentucky.
This devoted husband is also a father of two boys and a girl. John is an avid runner and enjoys coaching local sports teams and watching UK basketball.
Being with KFB gives John the opportunity to do something else he enjoys, offering a valuable service to the people of his hometown. John manages our Flaherty office, and will give you the kind of personal attention you need when making important insurance decisions.
How can John Beavin help you today?
KFB Spotlight
Retail food prices in Kentucky increase slightly during 2nd Quarter of 2016 according to Kentucky Farm Bureau Marketbasket Survey

August 2, 2016

For the first time in over a year, food prices in the Commonwealth have increased.
July 20, 2016

Thanks to funding from the Kentucky Agricultural Development Board, the University of Kentucky Grains Center of Excellence will help advance Kentucky agriculture for decades.
July 19, 2016

Please complete and submit applications to the KFB state office no later than October 14, 2016.