John Beavin Agent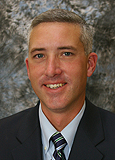 KFB Insurance Agent Since 1996 · LUTCF
John Beavin grew up watching his father and mother help people in times of trouble. That was his motivation for becoming a KFB insurance agent, back in 1996, after graduating from the University of Kentucky.
This devoted husband is also a father of two boys and a girl. John is heavily involved in the Meade Activity Center as board chairman. He thoroughly enjoys coaching local youth sports teams and watching UK football and Basketball. In his spare time he loves to be outdoors on the golf course, on the water, or in the woods.
Being with KFB gives John the opportunity to do something else he enjoys, offering a valuable service to the people of his hometown. John manages our Flaherty office, and will give you the kind of personal attention you need when making important insurance decisions.
How can John Beavin help you today?
KFB Insurance Learning Library
For the most part, the days of black ice and snowy roads are behind us – but don't let your guard down! The rainy season is now upon us.
A little more than two hundred years ago, a Cornish chemist by the name of Sir Humphry Davy connected wires to a battery and a piece of carbon, causing the carbon to glow. This seemingly insignificant event was the first step toward a life-changing, modern convenience we have all come to know and love: electric lighting.
Early examples of distracted driving studies go back as far as 1963, when scientist John Senders took to the roads blindfolded – all in the name of research.