John Beavin Agent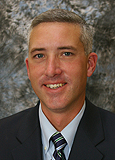 KFB Insurance Agent Since 1996 · LUTCF
John Beavin grew up watching his father and mother help people in times of trouble. That was his motivation for becoming a KFB insurance agent, back in 1996, after graduating from the University of Kentucky.
This devoted husband is also a father of two boys and a girl. John is heavily involved in the Meade Activity Center as board chairman. He thoroughly enjoys coaching local youth sports teams and watching UK football and Basketball. In his spare time he loves to be outdoors on the golf course, on the water, or in the woods.
Being with KFB gives John the opportunity to do something else he enjoys, offering a valuable service to the people of his hometown. John manages our Flaherty office, and will give you the kind of personal attention you need when making important insurance decisions.
How can John Beavin help you today?
KFB Insurance Learning Library
Children are 70 times more likely to get to school safely while on the school bus as opposed to riding in a car.
Is your little one going back to school or starting school for the very first time? Be sure to school them on proper bus stop etiquette!
Just this year, more than 20 children across the United States died from heatstroke in unattended cars. In the past two decades, that tally has exceeded more than 700.