Paul Rose Agent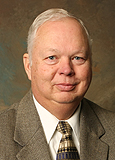 KFB Insurance Agent Since 1982
Paul Rose began his career as an insurance agent with Kentucky Farm Bureau Mutual Insurance Company in 1982. Paul provides over 40 years of experience in servicing Hopkins County Farm Bureau members with quality insurance products and services. Paul is dedicated to his clients and will assist them in finding the best insurance product and correct level of insurance coverage to protect them and their assets.

Paul and the dedicated insurance agents and staff at Hopkins County Farm Bureau Nebo Road are here to service all your insurance needs, from home and auto insurance to life and health insurance and everything in between. They are knowledgeable about the community and provide assistance and advice when needed.

Call Paul today for a free, no-obligation insurance quote.

How can Paul Rose help you today?
Life's Blueprints: A KFB Insurance Blog
Grill fires cause an annual average of $37 million in property damage, according to the Insurance Information Institute (III).
In 2019, 52 children across the United States died from heatstroke in unattended cars.
It's easy to compile your list of boating must-haves, but if you're forgetting safety, you could be heading for rough waters.