Mark Herring Agent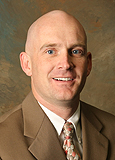 KFB Insurance Agent Since 1999

Mark Herring began his career with Kentucky Farm Bureau Mutual Insurance Company in 1999. Mark is a life-long resident of Hopkins County and has dedicated the last 16 years to servicing the insurance needs of the members of Hopkins County Farm Bureau. Mark is active in the community serving on boards and committees for both the Hopkins County Schools and the Hopkins County Extension Service. Mark is dedicated to providing Farm Bureau members and the community with knowledgeable service and quality insurance products. He will assist you in finding the right insurance product and the correct level of insurance coverage to fit your need.

Mark and the dedicated insurance agents and staff and Hopkins County Farm Bureau Nebo Road are here to service all your insurance needs, from home and auto insurance to life and health and everything in between. They are knowledgeable about their community and can provide assistance or advice when needed.

Call Mark today for a free, no-obligation insurance quote.

How can Mark Herring help you today?
Life's Blueprints: A KFB Insurance Blog
Embracing smart home technology can seem incredibly daunting at first, but through simple, app-based controls, professional installation services, and affordable price points, anyone can make their home a little more intelligent.
Have you ever wondered what to do with dead batteries, broken electronics, and burnt-out light bulbs? Read on to find out which common household items often wrongfully end up in the trash – and what you should do with them instead.
Kentucky is one of 16 states at the highest risk for earthquakes, according to the United States Geological Survey.