Mark Herring Agent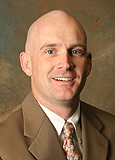 KFB Insurance Agent Since 1999

Mark Herring began his career with Kentucky Farm Bureau Mutual Insurance Company in 1999. Mark is a life-long resident of Hopkins County and has dedicated the last 16 years to servicing the insurance needs of the members of Hopkins County Farm Bureau. Mark is active in the community serving on boards and committees for both the Hopkins County Schools and the Hopkins County Extension Service. Mark is dedicated to providing Farm Bureau members and the community with knowledgeable service and quality insurance products. He will assist you in finding the right insurance product and the correct level of insurance coverage to fit your need.

Mark and the dedicated insurance agents and staff and Hopkins County Farm Bureau Nebo Road are here to service all your insurance needs, from home and auto insurance to life and health and everything in between. They are knowledgeable about their community and can provide assistance or advice when needed.

Call Mark today for a free, no-obligation insurance quote.

How can Mark Herring help you today?
Life's Blueprints: A KFB Insurance Blog
Homeowners impacted by strong storms may find themselves in need of contractors to repair damaged homes or clean up fallen debris. When major storms hit, it is not unusual for "storm chasing" contractors to arrive on the scene looking for work. Hiring these contractors can be risky.
Do you ever wonder how your loved ones would fare should something ever happen to you? If someone depends on you financially, life insurance is a topic you shouldn't avoid?
Tires were built to be indestructible. While that's great for your vehicle, it's bad news for the Earth. So what exactly happens to our tires once we're done with them?