Mark Herring Agent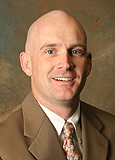 KFB Insurance Agent Since 1999

Mark Herring began his career with Kentucky Farm Bureau Mutual Insurance Company in 1999. Mark is a life-long resident of Hopkins County and has dedicated the last 16 years to servicing the insurance needs of the members of Hopkins County Farm Bureau. Mark is active in the community serving on boards and committees for both the Hopkins County Schools and the Hopkins County Extension Service. Mark is dedicated to providing Farm Bureau members and the community with knowledgeable service and quality insurance products. He will assist you in finding the right insurance product and the correct level of insurance coverage to fit your need.

Mark and the dedicated insurance agents and staff and Hopkins County Farm Bureau Nebo Road are here to service all your insurance needs, from home and auto insurance to life and health and everything in between. They are knowledgeable about their community and can provide assistance or advice when needed.

Call Mark today for a free, no-obligation insurance quote.

How can Mark Herring help you today?
KFB Insurance Learning Library
Early examples of distracted driving studies go back as far as 1963, when scientist John Senders took to the roads blindfolded – all in the name of research.
Today, the number of cellphones in the U.S. surpasses the country's population. And according to a study by AT&T, 70 percent of people admit to using those cellphones while driving.
The automobile and tech industries have taken notice of distracted driving. Some tools have already been invented to curb the effects of this rampant roadway issue, while other technologies are quickly developing from budding ideas to larger-than-life innovations.