Nebo Road Agency
Our Nebo Road Agency is Ready to Meet All Your Insurance Needs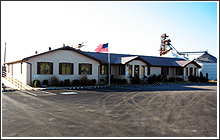 We are a Kentucky Farm Bureau Mutual Insurance Agency offering insurance products and services to our Hopkins County Farm Bureau members and others in Hopkins County.
Kentucky Farm Bureau Mutual Insurance Company is the the #1 property and casualty insurer domiciled in the beautiful Commonwealth of Kentucky. Our Hopkins County-Nebo road Agency is conveniently located at 585 Nebo Road in Madisonville, Ky. We offer insurance products to service the insurance needs of all our members. From home, auto and business insurance to life and health insurance and everything in between, the agents and staff at Kentucky Farm Bureau Mutual Insurance—Nebo Road will find the insurance product to best fit your need. Kentucky Farm Bureau Mutual Insurance rates are affordable and our claims service is quick and efficient. Call or come in today and let us show you the Kentucky Farm Bureau Insurance difference.
Meet Our Insurance Agents
How can the Nebo Road Agency help you today?
KFB Insurance Learning Library
As more and more people pluck drones off retail store shelves for both personal and business use, these little sci-fi-like flying machines are becoming an increasingly common sight in Kentucky's skies.
Today, the number of cellphones in the U.S. surpasses the country's population. And according to a study by AT&T, 70 percent of people admit to using those cellphones while driving.
Early examples of distracted driving studies go back as far as 1963, when scientist John Senders took to the roads blindfolded – all in the name of research.