Nebo Road Agency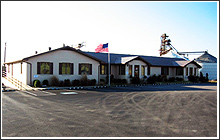 We are a Kentucky Farm Bureau Mutual Insurance Agency offering insurance products and services to our Hopkins County Farm Bureau members and others in Hopkins County.
Kentucky Farm Bureau Mutual Insurance Company is the the #1 property and casualty insurer domiciled in the beautiful Commonwealth of Kentucky. Our Hopkins County-Nebo road Agency is conveniently located at 585 Nebo Road in Madisonville, Ky. We offer insurance products to service the insurance needs of all our members. From home, auto and business insurance to life and health insurance and everything in between, the agents and staff at Kentucky Farm Bureau Mutual Insurance—Nebo Road will find the insurance product to best fit your need. Kentucky Farm Bureau Mutual Insurance rates are affordable and our claims service is quick and efficient. Call or come in today and let us show you the Kentucky Farm Bureau Insurance difference.
Meet Our Insurance Agents
How can the Nebo Road Agency help you today?
Life's Blueprints: A KFB Insurance Blog
Children are 70 times more likely to get to school safely while on the school bus as opposed to riding in a car.
Parents and caregivers have the ability to make lifesaving differences when buckling young ones in for a trip.
Do you know who would be financially responsible for your belongings if your apartment caught on fire or was broken into? If you think that your landlord is on the hook for your stuff in the event of a catastrophe — think again.