Nebo Road Agency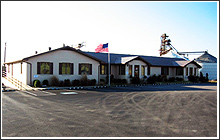 We are a Kentucky Farm Bureau Mutual Insurance Agency offering insurance products and services to our Hopkins County Farm Bureau members and others in Hopkins County.
Kentucky Farm Bureau Mutual Insurance Company is the the #1 property and casualty insurer domiciled in the beautiful Commonwealth of Kentucky. Our Hopkins County-Nebo road Agency is conveniently located at 585 Nebo Road in Madisonville, Ky. We offer insurance products to service the insurance needs of all our members. From home, auto and business insurance to life and health insurance and everything in between, the agents and staff at Kentucky Farm Bureau Mutual Insurance—Nebo Road will find the insurance product to best fit your need. Kentucky Farm Bureau Mutual Insurance rates are affordable and our claims service is quick and efficient. Call or come in today and let us show you the Kentucky Farm Bureau Insurance difference.
Meet Our Insurance Agents
How can the Nebo Road Agency help you today?
Life's Blueprints: A KFB Insurance Blog
During the holiday season, emergency rooms nationwide are flooded with victims of holiday decor gone wrong.
Avoid a tree tragedy this holiday season! Christmas trees annually cause millions of dollars in property damage.
Proper maintenance protects the longevity of your home. Tackling a few seasonal chores in the fall may help save you from a costly winter disaster.