Norman Berry Agent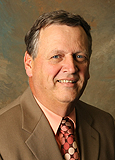 KFB Insurance Agent Since 1990 · LUTCF
Norman Berry began his career with Kentucky Farm Bureau Mutual Insurance Company in 1989. Norman is life-long resident of Hopkins County and has dedicated the last 25 years to servicing the membership of Hopkins County Farm Bureau by providing knowledgeable service and quality insurance products. Norman strives to provide his with the highest quality of service and is here to assist them in finding the right insurance product and the correct level of insurance coverage to protect them and their assets.

Norman and the dedicated insurance agents and staff at Hopkins County Farm Bureau Nebo Road are here to service all your insurance needs, from home and auto insurance to life and health insurance and everything in between. They are knowledgeable about the community and provide assistance and advice when needed.

Call Norman today for a free, no-obligation insurance quote.

How can Norman Berry help you today?
KFB Spotlight
Making the grade: Kentucky Farm Bureau offers five free professional development workshops for educators

May 26, 2016

Although the school year is rapidly coming to a close, the hard work that teachers put into classroom preparation and improving their instructional techniques continues on through the summer.
May 26, 2016

This year's University of Kentucky Agricultural Field Day set a record for attendance with more than 2,000 students from three states.
May 26, 2016

The University of Kentucky

College of Agriculture, Food and Environment recently completed work on a facility located at the Coldstream Dairy Research Farm that will help in dairy research efforts.