Norman Berry Agent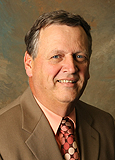 KFB Insurance Agent Since 1990 · LUTCF
Norman Berry began his career with Kentucky Farm Bureau Mutual Insurance Company in 1989. Norman is life-long resident of Hopkins County and has dedicated the last 25 years to servicing the membership of Hopkins County Farm Bureau by providing knowledgeable service and quality insurance products. Norman strives to provide his with the highest quality of service and is here to assist them in finding the right insurance product and the correct level of insurance coverage to protect them and their assets.

Norman and the dedicated insurance agents and staff at Hopkins County Farm Bureau Nebo Road are here to service all your insurance needs, from home and auto insurance to life and health insurance and everything in between. They are knowledgeable about the community and provide assistance and advice when needed.

Call Norman today for a free, no-obligation insurance quote.

How can Norman Berry help you today?
Life's Blueprints: A KFB Insurance Blog
Parents and caregivers have the ability to make lifesaving differences when buckling young ones in for a trip.
Do you know who would be financially responsible for your belongings if your apartment caught on fire or was broken into? If you think that your landlord is on the hook for your stuff in the event of a catastrophe — think again.
According to the Environmental Protection Association (EPA), the average American family uses more than 400 gallons per day at home – and 70 percent of that is water used indoors.