Norman Berry Agent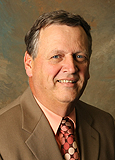 KFB Insurance Agent Since 1990 · LUTCF
Norman Berry began his career with Kentucky Farm Bureau Mutual Insurance Company in 1989. Norman is life-long resident of Hopkins County and has dedicated the last 25 years to servicing the membership of Hopkins County Farm Bureau by providing knowledgeable service and quality insurance products. Norman strives to provide his with the highest quality of service and is here to assist them in finding the right insurance product and the correct level of insurance coverage to protect them and their assets.

Norman and the dedicated insurance agents and staff at Hopkins County Farm Bureau Nebo Road are here to service all your insurance needs, from home and auto insurance to life and health insurance and everything in between. They are knowledgeable about the community and provide assistance and advice when needed.

Call Norman today for a free, no-obligation insurance quote.

How can Norman Berry help you today?
KFB Insurance Learning Library
It's tempting to crank up that space heater for some extra bedroom warmth or to de-ice your cold toes at the office, but take these precautions before turning that dial to the maximum setting.
While salt is good for the roads, it can be very bad for the cars on those roads. That magical substance used for de-icing can also de-paint your car.
Historically, Super Bowl Sunday falls in line as one of the top drinking days of the year, frequently ranking second only to New Year's Eve.