Courtney Roberts Agency Manager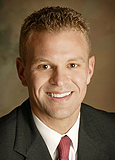 KFB Insurance Agent Since 1998
Hello and welcome to Kentucky Farm Bureau Insurance, Woodford County. As your local insurance agent, I'm right here in your community—ready to serve you. Call me today and let's discuss your specific situation. I'll help you make sure you and your assets are protected with the correct level of insurance coverage.
In the event of a loss, you can count on Kentucky Farm Bureau Insurance to help you through it. Our local claims office and adjusters are close by when you need them. We are knowledgeable about our community and can provide valuable assistance and advice when needed.
Call me today for a free, no-obligation quote.
How can Courtney Roberts help you today?
Life's Blueprints: A KFB Insurance Blog
Each year, there are thousands of collisions and hundreds of lives lost on Kentucky's roadways. Tragically, many of these crashes could have been avoided. When you're behind the wheel, please do your part to keep Kentucky safe.
The Centers for Disease Control (CDC) recommend several basic precautions to prevent the spread of the coronavirus in local communities.
Grill fires cause an annual average of $37 million in property damage, according to the Insurance Information Institute (III).