Scott Bouldin Agent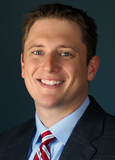 KFB Insurance Agent Since 2008 · LUTCF · FSCP
Scott Bouldin is a Kentucky Farm Bureau Insurance agent located in Bowling Green, Kentucky. Since 2008, he has worked in the industry offering home insurance, auto insurance, life insurance, farm insurance and commercial insurance to his local community and surrounding areas. His team at the Kentucky Farm Bureau Insurance - Campbell Lane Agency prides themselves on offering the highest level of customer service while educating customers about the insurance products that best fit their needs.
Scott, his wife Becca, and their three daughters live on a small farm where they have horses, raise beef cattle, and grow alfalfa, sweet corn, and apples. Scott is active within the Bowling Green community, and he has served in the following roles:
-President of the Warren County Agriculture Awareness Board
-Board member of the Mortgage Banker Association of South Central Kentucky
-Lifetime member of the South Central Kentucky Association of Realtors Honors Society
In addition to these roles, Scott received the honor of being named the 2018 Kentucky Farm Bureau Agent of the Year. To connect with Scott for a quick, FREE insurance quote, call (270) 904-4800 today.
How can Scott Bouldin help you today?
Life's Blueprints: A KFB Insurance Blog
According to the National Insurance Crime Bureau (NICB), catalytic converter thefts have seen a significant increase across the country since March of 2020, the start of the global COVID-19 pandemic.
In 2020, 24 children across the United States died from heatstroke in unattended cars.
Parents and caregivers have the ability to make lifesaving differences when buckling young ones in for a trip.