Chase Smith Agent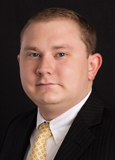 KFB Insurance Agent Since 2015
Hello and welcome to the Kentucky Farm Bureau Insurance, Perry County Morton Boulevard agency. As your local insurance agent, I'm right here in your community—ready to serve you. Call me today and let's discuss your specific situation. I'll help you make sure you and your assets are protected with the correct level of insurance coverage.
In the event of a loss, you can count on Kentucky Farm Bureau Insurance to help you through it. Our local claims office and adjusters are close by when you need them. We are knowledgeable about our community and can provide valuable assistance and advice when needed.
Call me today for a free, no-obligation quote.
How can Chase Smith help you today?
Life's Blueprints: A KFB Insurance Blog
Have you ever wondered what to do with dead batteries, broken electronics, and burnt out light bulbs? Read on to find out which common household items often wrongfully end up the trash – and what you should do with them instead.
Kentucky is one of 16 states at the highest risk for earthquakes, according to the United States Geological Survey.
Fans don't let fans drink and drive! Help keep Kentucky's roadways safe on game day.