Steve Jones Agency Manager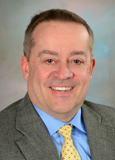 KFB Insurance Agent Since 2007
Steve has been a resident of Oldham County since 1998. He and his wife, Amy, have two sons that graduated high school from South Oldham High School where they were involved with sports. Steve continues to support South Oldham High Sports as a spectator and contributor to the South Oldham Booster Club. He and his family attend Phos Community Church.
Steve takes pride in serving his clients and his community as an agent with Kentucky Farm Bureau Insurance. He strives to be a reliable and accessible source for answers to your insurance questions. As an insurance professional, his goal is to help provide peace of mind to all of his clients. Give Steve a call today to see the advantage of having an agent in your community who is committed to meeting your needs!
How can Steve Jones help you today?
Life's Blueprints: A KFB Insurance Blog
For millions of working Americans, employer-provided life insurance is a valuable perk. However, it may not provide enough coverage for your loved ones after you're gone. Check out this article for information on when it may be necessary to purchase additional coverage.
Do you ever wonder how your loved ones would fare should something ever happen to you? If someone depends on you financially, life insurance is a topic you shouldn't avoid.
If you are involved in an auto accident, first and foremost, tend to the safety of everyone involved.