Montgomery County Agency
Our Montgomery County Agency is Ready to Meet All Your Insurance Needs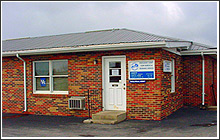 Kentucky Farm Bureau Insurance Company is the #1 property and casualty insurance provider in Kentucky. With local agents, our members enjoy an unmatched level of dedication and service. KFB's rates are affordable and our local claims service is quick and efficient. Call or come in today and let us show you the Kentucky Farm Bureau Insurance difference.
Meet Our Insurance Agents
How can the Montgomery County Agency help you today?
Life's Blueprints: A KFB Insurance Blog
Storms can loosen and rip apart materials built with asbestos, launching these invisible cancer-causing particles into the air we breathe.
You never know when a storm may hit, but you can prepare ahead of time by learning how to minimize the damage and properly report a loss to your Kentucky Farm Bureau Insurance agent.
Each year, the native white-tailed deer species is the cause of 150 human deaths and 1.5 million vehicle collisions nationally, according to the Insurance Institute for Highway Safety.