Paul Koverdan Agency Manager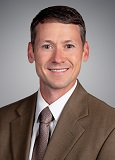 KFB Insurance Agent Since 2005
I didn't grow up thinking that I would be a Kentucky Farm Bureau insurance agent, however I always knew that I wanted to have a positive impact on the lives of others. That's what led me to become an insurance agent for Kentucky Farm Bureau in McCracken County and I'm still at it all these years later.
As an insurance agent, I am able to assist individuals and business owners in McCracken County at a time when they need it most. Whether advising individuals in need of a homeowner, auto, boat, or life insurance policy, or assisting a local business owner or farmer in finding affordable coverage that covers their assets. It's my job to build customized insurance policies that fit the individual needs of those I am here to help. If the unthinkable happens, you will have the peace of mind of knowing that I will be there to make sure your claim goes smoothly.
I have the backing of Kentucky Farm Bureau, the largest property and casualty company domiciled in Kentucky, and because I live right here in Paducah I feel an obligation to serve my clients whenever they need me. I firmly believe that your insurance is only as good as your insurance agent and I am committed to meet those needs. I help my clients by tailoring a policy specific to their needs and if the unfortunate happens I make sure to get their claims paid so that they can get on with their lives. Call me at 270.444.8400 or e-mail me at Paul.Koverdan@kyfb.com for a free, no-obligation quote.
How can Paul Koverdan help you today?
Life's Blueprints: A KFB Insurance Blog
For millions of working Americans, employer-provided life insurance is a valuable perk. However, it may not provide enough coverage for your loved ones after you're gone. Check out this article for information on when it may be necessary to purchase additional coverage.
Do you ever wonder how your loved ones would fare should something ever happen to you? If someone depends on you financially, life insurance is a topic you shouldn't avoid.
If you are involved in an auto accident, first and foremost, tend to the safety of everyone involved.