Paul Koverdan Agency Manager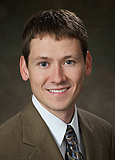 KFB Insurance Agent Since 2005
I didn't grow up thinking that I would be a Kentucky Farm Bureau insurance agent, however I always knew that I wanted to have a positive impact on the lives of others. That's what led me to become an insurance agent for Kentucky Farm Bureau in McCracken County and I'm still at it 10 years later.
As an insurance agent, I am able to assist individuals and business owners in McCracken County at a time when they need it most. Whether advising individuals in need of a homeowner, auto, boat, or life insurance policy, or assisting a local business owner or farmer in finding affordable coverage that covers their assets. It's my job to build customized insurance policies that fit the individual needs of those I am here to help.
I have the backing of Kentucky Farm Bureau, the largest property and casualty company domiciled in Kentucky, and because I live right here in Paducah I feel an obligation to serve my clients whenever they need me. I firmly believe that your insurance is only as good as your insurance agent and I am committed to meet those needs. I help my clients by tailoring a policy specific to their needs and if the unfortunate happens I make sure to get their claims paid so that they can get on with their lives. Call me at 270.444.8400 or e-mail me at Paul.Koverdan@kyfb.com for a free, no-obligation quote.
How can Paul Koverdan help you today?
Life's Blueprints: A KFB Insurance Blog
Avoid a tree tragedy this holiday season! From 2010 to 2014, Christmas trees caused an average of 210 home fires, resulting in six deaths, 16 injuries, and $16.2 million in direct property damage annually.
Did you know that 49% of people said they would take photos or watch videos while driving through a parking lot, according to a National Safety Council survey?
During the holiday season, emergency rooms nationwide are flooded with victims of holiday decor gone wrong.