Jessica Koverdan Agent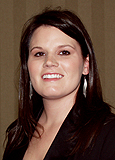 KFB Insurance Agent Since 2007
Helping people is what makes my job worth getting up in the morning to do. From the time I was a little girl I knew I wanted to be an insurance agent for Kentucky Farm Bureau. Seems like kind of a specific goal for a young girl, I know, but I grew up working with my dad in the Kentucky Farm Bureau office in Paducah and once you get a taste of what it's like to help others during a time of disaster, it's hard to think of doing anything else.

When a disaster strikes the last thing you want to do is to call your insurance company, only to be put on hold for what seems like hours. During a crisis you need to know that your agent is available and that you're not just another claim to them.
My customers know that they have access to me 24/7 on my cell phone. If they need me, they know they can reach me. That's what makes having a local agent in McCracken County so beneficial. My customers have faces and names. They are never just another claim. Call me at 270.444.8400 or e-mail me at Jessica.Koverdan@kyfb.com for a free, no-obligation quote.
How can Jessica Koverdan help you today?
Life's Blueprints: A KFB Insurance Blog
Did you know that 49% of people said they would take photos or watch videos while driving through a parking lot, according to a National Safety Council survey?
During the holiday season, emergency rooms nationwide are flooded with victims of holiday decor gone wrong.
Extension cords aren't simply plug-and-go tools, as so many people treat them. Follow these tips to ensure that your home stays safe when extension cords are in use.