Jessica Koverdan Agent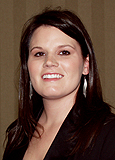 KFB Insurance Agent Since 2007
Helping people is what makes my job worth getting up in the morning to do. From the time I was a little girl I knew I wanted to be an insurance agent for Kentucky Farm Bureau. Seems like kind of a specific goal for a young girl, I know, but I grew up working with my dad in the Kentucky Farm Bureau office in Paducah and once you get a taste of what it's like to help others during a time of disaster, it's hard to think of doing anything else.

When a disaster strikes the last thing you want to do is to call your insurance company, only to be put on hold for what seems like hours. During a crisis you need to know that your agent is available and that you're not just another claim to them.
My customers know that they have access to me 24/7 on my cell phone. If they need me, they know they can reach me. That's what makes having a local agent in McCracken County so beneficial. My customers have faces and names. They are never just another claim. Call me at 270.444.8400 or e-mail me at Jessica.Koverdan@kyfb.com for a free, no-obligation quote.
How can Jessica Koverdan help you today?
KFB Spotlight
Making the grade: Kentucky Farm Bureau offers five free professional development workshops for educators

May 26, 2016

Although the school year is rapidly coming to a close, the hard work that teachers put into classroom preparation and improving their instructional techniques continues on through the summer.
May 26, 2016

This year's University of Kentucky Agricultural Field Day set a record for attendance with more than 2,000 students from three states.
May 26, 2016

The University of Kentucky

College of Agriculture, Food and Environment recently completed work on a facility located at the Coldstream Dairy Research Farm that will help in dairy research efforts.