Jessica Koverdan Agent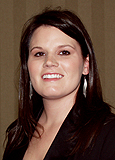 KFB Insurance Agent Since 2007
Helping people is what makes my job worth getting up in the morning to do. From the time I was a little girl I knew I wanted to be an insurance agent for Kentucky Farm Bureau. Seems like kind of a specific goal for a young girl, I know, but I grew up working with my dad in the Kentucky Farm Bureau office in Paducah and once you get a taste of what it's like to help others during a time of disaster, it's hard to think of doing anything else.

When a disaster strikes the last thing you want to do is to call your insurance company, only to be put on hold for what seems like hours. During a crisis you need to know that your agent is available and that you're not just another claim to them.
My customers know that they have access to me 24/7 on my cell phone. If they need me, they know they can reach me. That's what makes having a local agent in McCracken County so beneficial. My customers have faces and names. They are never just another claim. Call me at 270.444.8400 or e-mail me at Jessica.Koverdan@kyfb.com for a free, no-obligation quote.
How can Jessica Koverdan help you today?
KFB Insurance Learning Library
It's tempting to crank up that space heater for some extra bedroom warmth or to de-ice your cold toes at the office, but take these precautions before turning that dial to the maximum setting.
While salt is good for the roads, it can be very bad for the cars on those roads. That magical substance used for de-icing can also de-paint your car.
Historically, Super Bowl Sunday falls in line as one of the top drinking days of the year, frequently ranking second only to New Year's Eve.