Jessica Koverdan Agent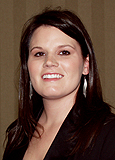 KFB Insurance Agent Since 2007
Helping people is what makes my job worth getting up in the morning to do. From the time I was a little girl I knew I wanted to be an insurance agent for Kentucky Farm Bureau. Seems like kind of a specific goal for a young girl, I know, but I grew up working with my dad in the Kentucky Farm Bureau office in Paducah and once you get a taste of what it's like to help others during a time of disaster, it's hard to think of doing anything else.

When a disaster strikes the last thing you want to do is to call your insurance company, only to be put on hold for what seems like hours. During a crisis you need to know that your agent is available and that you're not just another claim to them.
My customers know that they have access to me 24/7 on my cell phone. If they need me, they know they can reach me. That's what makes having a local agent in McCracken County so beneficial. My customers have faces and names. They are never just another claim. Call me at 270.444.8400 or e-mail me at Jessica.Koverdan@kyfb.com for a free, no-obligation quote.
How can Jessica Koverdan help you today?
Life's Blueprints: A KFB Insurance Blog
Homeowners impacted by strong storms may find themselves in need of contractors to repair damaged homes or clean up fallen debris. When major storms hit, it is not unusual for "storm chasing" contractors to arrive on the scene looking for work. Hiring these contractors can be risky.
Do you ever wonder how your loved ones would fare should something ever happen to you? If someone depends on you financially, life insurance is a topic you shouldn't avoid?
Tires were built to be indestructible. While that's great for your vehicle, it's bad news for the Earth. So what exactly happens to our tires once we're done with them?