John Schmidt Agency Manager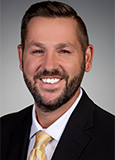 KFB Insurance Agent Since 2004
John grew up in Shelby County KY and went to high school at Christian Academy of Louisville. He attended Auburn University in Alabama, during which time he worked summers in North Carolina, Georgia & Jackson Hole, Wyoming. After graduating in 2001 from Auburn with a degree in Business, John married his wife Mandy and moved back to Louisville.
John and his wife are members of Southeast Christian Church and have 2 children. He enjoys camping & fishing and almost anything else outdoors. John also spends time playing golf & competitive sports, taking road trips with his family and following Auburn football.
How can John Schmidt help you today?
Life's Blueprints: A KFB Insurance Blog
According to the U.S. Fire Administration, 32 Kentuckians died in home fires in 2021. KFB Insurance encourages Kentuckians to take a few extra precautions to keep themselves, their loved ones, and their property safe from home and farm fires.
The soft leaves, pine needles, saplings and debris in your gutters are perfect home-building materials for invasive critters such as squirrels, possums, birds and cockroaches.
Each year, the native white-tailed deer species is the cause of 150 human deaths and 1.5 million vehicle collisions nationally, according to the Insurance Institute for Highway Safety.