John Schmidt Agency Manager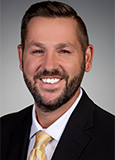 KFB Insurance Agent Since 2004
John grew up in Shelby County KY and went to high school at Christian Academy of Louisville. He attended Auburn University in Alabama, during which time he worked summers in North Carolina, Georgia & Jackson Hole, Wyoming. After graduating in 2001 from Auburn with a degree in Business, John married his wife Mandy and moved back to Louisville.
John and his wife are members of Southeast Christian Church and have 2 children. He enjoys camping & fishing and almost anything else outdoors. John also spends time playing golf & competitive sports, taking road trips with his family and following Auburn football.
How can John Schmidt help you today?
Life's Blueprints: A KFB Insurance Blog
For millions of working Americans, employer-provided life insurance is a valuable perk. However, it may not provide enough coverage for your loved ones after you're gone. Check out this article for information on when it may be necessary to purchase additional coverage.
Do you ever wonder how your loved ones would fare should something ever happen to you? If someone depends on you financially, life insurance is a topic you shouldn't avoid.
If you are involved in an auto accident, first and foremost, tend to the safety of everyone involved.