John Schmidt Agency Manager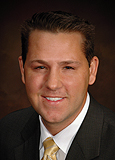 KFB Insurance Agent Since 2004
John grew up in Shelby County KY and went to high school at Christian Academy of Louisville. He attended Auburn University in Alabama, during which time he worked summers in North Carolina, Georgia & Jackson Hole, Wyoming. After graduating in 2001 from Auburn with a degree in Business, John married his wife Mandy and moved back to Louisville.
John and his wife are members of Southeast Christian Church and have 2 children. He enjoys camping & fishing and almost anything else outdoors. John also spends time playing golf & competitive sports, taking road trips with his family and following Auburn football.
How can John Schmidt help you today?
Life's Blueprints: A KFB Insurance Blog
You never know when a storm may hit, but you can prepare ahead of time by learning how to minimize the damage and properly report a loss to your Kentucky Farm Bureau Insurance agent.
Storms can loosen and rip apart materials built with asbestos, launching these invisible cancer-causing particles into the air we breathe.
It's tempting to crank up that space heater for some extra bedroom warmth or to de-ice your cold toes at the office, but take these precautions before turning that dial to the maximum setting.