John Schmidt Agency Manager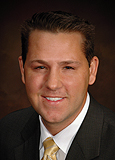 KFB Insurance Agent Since 2004
John grew up in Shelby County KY and went to high school at Christian Academy of Louisville. He attended Auburn University in Alabama, during which time he worked summers in North Carolina, Georgia & Jackson Hole, Wyoming. After graduating in 2001 from Auburn with a degree in Business, John married his wife Mandy and moved back to Louisville.
John and his wife are members of Southeast Christian Church and have 2 children. He enjoys camping & fishing and almost anything else outdoors. John also spends time playing golf & competitive sports, taking road trips with his family and following Auburn football.
How can John Schmidt help you today?
KFB Insurance Learning Library
For the most part, the days of black ice and snowy roads are behind us – but don't let your guard down! The rainy season is now upon us.
A little more than two hundred years ago, a Cornish chemist by the name of Sir Humphry Davy connected wires to a battery and a piece of carbon, causing the carbon to glow. This seemingly insignificant event was the first step toward a life-changing, modern convenience we have all come to know and love: electric lighting.
Early examples of distracted driving studies go back as far as 1963, when scientist John Senders took to the roads blindfolded – all in the name of research.