John Schmidt Agency Manager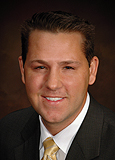 KFB Insurance Agent Since 2004
John grew up in Shelby County KY and went to high school at Christian Academy of Louisville. He attended Auburn University in Alabama, during which time he worked summers in North Carolina, Georgia & Jackson Hole, Wyoming. After graduating in 2001 from Auburn with a degree in Business, John married his wife Mandy and moved back to Louisville.
John and his wife are members of Southeast Christian Church and have 2 children. He enjoys camping & fishing and almost anything else outdoors. John also spends time playing golf & competitive sports, taking road trips with his family and following Auburn football.
How can John Schmidt help you today?
Life's Blueprints: A KFB Insurance Blog
We're all for enjoying Kentucky's beautiful sights via four-wheeler, but practice these tips to help keep ATV injuries and fatalities down in 2019.
Are you doing all you can to reduce your environmental footprint when behind the wheel? Read on to find out.
When it comes to the motorist-cyclist relationship, remember that it's a two-way street! A mutual respect between drivers and bicyclists must exist for each type of traveler to arrive at their destination safely.