Fern Creek Agency
Our Fern Creek Agency is Ready to Meet All Your Insurance Needs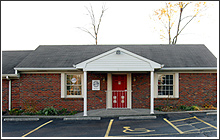 Kentucky Farm Bureau Insurance Company is the #1 property and casualty insurance provider in Kentucky. With local agents, our members enjoy an unmatched level of dedication and service. KFB's rates are affordable and our local claims service is quick and efficient. Call or come in today and let us show you the Kentucky Farm Bureau Insurance difference.
Meet Our Insurance Agents
How can the Fern Creek Agency help you today?
Life's Blueprints: A KFB Insurance Blog
The Centers for Disease Control (CDC) recommend several basic precautions to prevent the spread of the coronavirus in local communities.
Floods are the nation's most common and costly natural disaster, producing millions of dollars of destruction every year, according to the National Flood Insurance Program.
When it comes to the motorist-cyclist relationship, remember that it's a two-way street! A mutual respect between drivers and bicyclists must exist for each type of traveler to arrive at their destination safely.