Claim FAQs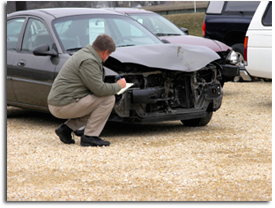 Four Frequently Asked Questions With One Common Answer!
How do I find out the status of a claim?
Who do I contact to provide additional details about a claim?
How can I schedule a drive-in inspection and estimate of my damaged vehicle?
Where do I send estimates, police reports, medical bills, receipts or other information?
Contact the Regional Claims Office nearest you. Kentucky Farm Bureau has 15 district claim offices throughout the state. Our friendly claim staff is ready to assist you and can answer your questions.
How do I file a claim?
To report a claim during normal business hours, please call your local Farm Bureau Agent's office.
To report a new claim after business hours, please call:
After-Hours Claims Reporting Hotline
1-866-KFB-Claim (1-866-532-2524)
4:30 p.m. until 9:00 a.m. (EST), Monday through Friday
24 hours on weekends and holidays
When should I expect contact from an adjuster or claim service representative?
In most cases, you should be contacted within 1 - 2 business days after your claim has been received.
If I have been injured in an auto accident, will my automobile policy pay for my medical expenses?
Typically, reasonable and necessary medical treatment is covered under Personal Injury Protection (PIP) coverage of your automobile policy. Assuming you have Personal Injury Protection (PIP) coverage, the PIP coverage provides benefits for the driver and passengers in your vehicle and pedestrians struck by your vehicle.
What if I have an auto glass only claim?
If you carry non-collision damage coverage on your vehicle, most glass only claims have no deductible. Contact your local Kentucky Farm Bureau Insurance agent to report your claim.
What if my vehicle has been "totaled" in an accident?
A vehicle is considered a total loss if the cost to repair exceeds 75% of its actual cash value. If your vehicle has been determined to be a total loss, you will be paid the actual cash value of the vehicle, established by conducting a local market survey less any applicable deductible.