Harrison County Agency
Our Harrison County Agency is Ready to Meet All Your Insurance Needs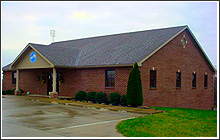 Kentucky Farm Bureau Insurance Company is the #1 property and casualty insurance provider in Kentucky. With local agents, our members enjoy an unmatched level of dedication and service. KFB's rates are affordable and our local claims service is quick and efficient. Call or come in today and let us show you the Kentucky Farm Bureau Insurance difference.
Meet Our Insurance Agents
How can the Harrison County Agency help you today?
Life's Blueprints: A KFB Insurance Blog
Do you ever wonder how your loved ones would fare should something ever happen to you? If someone depends on you financially, life insurance is a topic you shouldn't avoid.
REAL ID enforcement was originally scheduled to begin on Oct. 1, 2021. Full enforcement of the REAL ID act will now begin on May 3, 2023.
When it comes to the motorist-cyclist relationship, remember that it's a two-way street! A mutual respect between drivers and bicyclists must exist for each type of traveler to arrive at their destination safely.