Harrison County Agency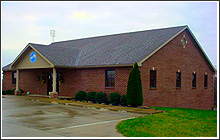 Kentucky Farm Bureau Insurance Company is the #1 property and casualty insurance provider in Kentucky. With local agents, our members enjoy an unmatched level of dedication and service. KFB's rates are affordable and our local claims service is quick and efficient. Call or come in today and let us show you the Kentucky Farm Bureau Insurance difference.
Meet Our Insurance Agents
How can the Harrison County Agency help you today?
Life's Blueprints: A KFB Insurance Blog
According to the National Insurance Crime Bureau (NICB), catalytic converter thefts have seen a significant increase across the country since March of 2020, the start of the global COVID-19 pandemic.
In 2021, 23 children across the United States died from heatstroke in unattended cars.
For millions of working Americans, employer-provided life insurance is a valuable perk. However, it may not provide enough coverage for your loved ones after you're gone. Check out this article for information on when it may be necessary to purchase additional coverage.