Fleming County Agency
Our Fleming County Agency is Ready to Meet All Your Insurance Needs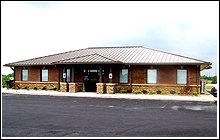 Kentucky Farm Bureau Insurance Company is the #1 property and casualty insurance provider in Kentucky. With local agents, our members enjoy an unmatched level of dedication and service. KFB's rates are affordable and our local claims service is quick and efficient. Call or come in today and let us show you the Kentucky Farm Bureau Insurance difference.
Meet Our Insurance Agents
How can the Fleming County Agency help you today?
Life's Blueprints: A KFB Insurance Blog
Parents and caregivers have the ability to make lifesaving differences when buckling young ones in for a trip.
You never know when a storm may hit, but you can prepare ahead of time by learning how to minimize the damage and properly report a loss to your Kentucky Farm Bureau Insurance agent.
Did you know that a few misplaced items can cause entire loads of recycling to be rejected? Here's how some of your curbside recycling habits could be working against you.