Tates Creek Agency
Our Tates Creek Agency is Ready to Meet All Your Insurance Needs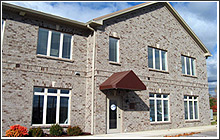 Kentucky Farm Bureau Insurance Company is the #1 property and casualty insurance provider in Kentucky. With local agents, our members enjoy an unmatched level of dedication and service. KFB's rates are affordable and our local claims service is quick and efficient. Call or come in today and let us show you the Kentucky Farm Bureau Insurance difference.
Meet Our Insurance Agents
How can the Tates Creek Agency help you today?
Life's Blueprints: A KFB Insurance Blog
During the holiday season, emergency rooms nationwide are flooded with victims of holiday decor gone wrong.
Avoid a tree tragedy this holiday season! Christmas trees annually cause millions of dollars in property damage.
According to the National Retail Federation (NRF), American consumers plan to spend nearly $1,000 each during the 2021 holiday shopping season. That's a lot of loot – and holiday scammers are well aware.