Larry Reddick Agency Manager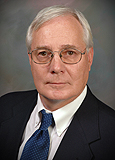 KFB Insurance Agent Since 1987
Hello and welcome to Kentucky Farm Bureau Insurance, Carlisle County. As your local insurance agent, I'm right here in your community—ready to serve you. Call me today and let's discuss your specific situation. I'll help you make sure you and your assets are protected with the correct level of insurance coverage.
In the event of a loss, you can count on Kentucky Farm Bureau Insurance to help you through it. Our local claims office and adjusters are close by when you need them. We are knowledgeable about our community and can provide valuable assistance and advice when needed.
Call me today for a free, no-obligation quote.
How can Larry Reddick help you today?
Life's Blueprints: A KFB Insurance Blog
For millions of working Americans, employer-provided life insurance is a valuable perk. However, it may not provide enough coverage for your loved ones after you're gone. Check out this article for information on when it may be necessary to purchase additional coverage.
Do you ever wonder how your loved ones would fare should something ever happen to you? If someone depends on you financially, life insurance is a topic you shouldn't avoid.
If you are involved in an auto accident, first and foremost, tend to the safety of everyone involved.