Neil Murphy Agency Manager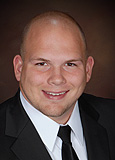 KFB Insurance Agent Since 2009
Neil is a graduate of Centre College in Danville, KY. He was named the 2011 Kentucky Farm Bureau Sophomore Agent of the Year for exemplary production and risk selection. In 2012, he was named the Kentucky Farm Bureau Agent of the Year. From 2010-2012 Neil was also been a member of the Kentucky Farm Bureau President's Club and has taken part in the prestigious Round Table Conference for the top Southern Farm Bureau life insurance producers. He is a proud supporter of athletics within the county. Neil also sponsors many community groups such as the YMCA, the Antique Iron Club, and Oldham County youth baseball.
Neil takes pride in serving his clients and his community of La Grange as an agent with Kentucky Farm Bureau Insurance. He strives to be a reliable and accessible source for answers to your insurance questions. As an insurance professional, his goal is to help provide peace of mind to each and every one of his clients. Give Neil a call today to see the advantage of having an agent in your community who is committed to meeting your needs!
How can Neil Murphy help you today?
Life's Blueprints: A KFB Insurance Blog
We're all for enjoying Kentucky's beautiful sights via four-wheeler, but practice these tips to help keep ATV injuries and fatalities down in 2019.
Are you doing all you can to reduce your environmental footprint when behind the wheel? Read on to find out.
When it comes to the motorist-cyclist relationship, remember that it's a two-way street! A mutual respect between drivers and bicyclists must exist for each type of traveler to arrive at their destination safely.