Neil Murphy Agency Manager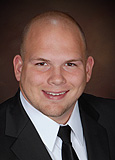 KFB Insurance Agent Since 2009
Neil is a graduate of Centre College in Danville, KY. He was named the 2011 Kentucky Farm Bureau Sophomore Agent of the Year for exemplary production and risk selection. In 2012, he was named the Kentucky Farm Bureau Agent of the Year. From 2010-2012 Neil was also been a member of the Kentucky Farm Bureau President's Club and has taken part in the prestigious Round Table Conference for the top Southern Farm Bureau life insurance producers. He is a proud supporter of athletics within the county. Neil also sponsors many community groups such as the YMCA, the Antique Iron Club, and Oldham County youth baseball.
Neil takes pride in serving his clients and his community of La Grange as an agent with Kentucky Farm Bureau Insurance. He strives to be a reliable and accessible source for answers to your insurance questions. As an insurance professional, his goal is to help provide peace of mind to each and every one of his clients. Give Neil a call today to see the advantage of having an agent in your community who is committed to meeting your needs!
How can Neil Murphy help you today?
Life's Blueprints: A KFB Insurance Blog
Children are 70 times more likely to get to school safely while on the school bus as opposed to riding in a car.
Parents and caregivers have the ability to make lifesaving differences when buckling young ones in for a trip.
Do you know who would be financially responsible for your belongings if your apartment caught on fire or was broken into? If you think that your landlord is on the hook for your stuff in the event of a catastrophe — think again.