Philip Adams Agent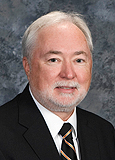 KFB Insurance Agent Since 1988
Hello and welcome to Kentucky Farm Bureau Insurance, Letcher County. As your local insurance agent, I'm right here in your community—ready to serve you. Call me today and let's discuss your specific situation. I'll help you make sure you and your assets are protected with the correct level of insurance coverage.
In the event of a loss, you can count on Kentucky Farm Bureau Insurance to help you through it. Our local claims office and adjusters are close by when you need them. We are knowledgeable about our community and can provide valuable assistance and advice when needed.
Call me today for a free, no-obligation quote.
How can Philip Adams help you today?
Life's Blueprints: A KFB Insurance Blog
According to the Environmental Protection Association (EPA), the average American family uses more than 400 gallons per day at home – and 70 percent of that is water used indoors.
As you ready your family for the summer adventures ahead, don't forget to prep your home for your absence. Put your mind at ease by following these eight tips to prepare your home for summer vacation.
Parents and caregivers have the ability to make lifesaving differences when buckling young ones in for a trip.