Sam Benham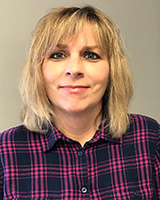 Sam Benham is the newest staff member at Meade County Farm Bureau. She was born and raised in Meade County and says there is no place she would rather be. Sam looks forward to building relationships with the customers in the area and helping them in any way she can. Be sure to welcome her to the Farm Bureau family when you see her!
Life's Blueprints: A KFB Insurance Blog
Transportation officials share preliminary schedule, urge Kentuckians to prepare documentation now.
Kentucky is one of 16 states at the highest risk for earthquakes, according to the United States Geological Survey.
Frozen water can wreak havoc on metal or plastic pipes, no matter their strength. According to the Insurance Institute for Business and Home Safety, a 1/8th inch crack in a pipe can spew up to 250 gallons of water a day!