Megan Lemaster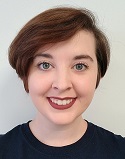 Megan Lemaster joined the Farm Bureau family in 2016. When she's not working, Megan enjoys spending time outside with her daughter. She also has several animals and enjoys hunting, fishing, and hiking. Megan is an avid church goer and enjoys singing with her family in the choir. She is always carrying a tune and loves to make everyone laugh. Come by your Harlan Farm Bureau and Megan will help you with a smile!
Life's Blueprints: A KFB Insurance Blog
Early examples of distracted driving studies go back as far as 1963, when scientist John Senders took to the roads blindfolded – all in the name of research.
The auto industry has taken notice of distracted driving. Some tools have already been invented to curb the effects, while other technologies are quickly developing from budding ideas to larger-than-life innovations.
Cellphone blocking technology removes the temptation of distracted driving altogether by prohibiting calls or texts while a vehicle is in motion.