Megan Lemaster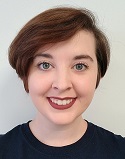 Megan Lemaster joined the Farm Bureau family in 2016. When she's not working, Megan enjoys spending time outside with her daughter. She also has several animals and enjoys hunting, fishing, and hiking. Megan is an avid church goer and enjoys singing with her family in the choir. She is always carrying a tune and loves to make everyone laugh. Come by your Harlan Farm Bureau and Megan will help you with a smile!
Life's Blueprints: A KFB Insurance Blog
For millions of working Americans, employer-provided life insurance is a valuable perk. However, it may not provide enough coverage for your loved ones after you're gone. Check out this article for information on when it may be necessary to purchase additional coverage.
Do you ever wonder how your loved ones would fare should something ever happen to you? If someone depends on you financially, life insurance is a topic you shouldn't avoid.
If you are involved in an auto accident, first and foremost, tend to the safety of everyone involved.