Megan Lemaster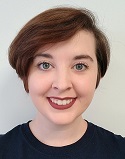 Megan Lemaster joined the Farm Bureau family in 2016. When she's not working, Megan enjoys spending time outside with her daughter. She also has several animals and enjoys hunting, fishing, and hiking. Megan is an avid church goer and enjoys singing with her family in the choir. She is always carrying a tune and loves to make everyone laugh. Come by your Harlan Farm Bureau and Megan will help you with a smile!
Life's Blueprints: A KFB Insurance Blog
We're all for enjoying Kentucky's beautiful sights via four-wheeler, but practice these tips to help keep ATV injuries and fatalities down in 2019.
Are you doing all you can to reduce your environmental footprint when behind the wheel? Read on to find out.
When it comes to the motorist-cyclist relationship, remember that it's a two-way street! A mutual respect between drivers and bicyclists must exist for each type of traveler to arrive at their destination safely.