Young Farmer Conference . . .
Posted on Feb 1, 2015

The two-day event featured workshops, tours of local attractions, guest speakers and plenty of fellowship. Presiding was Alan Hubble of Lincoln County, the new chairman of the young farmer committee.
KFB President Mark Haney addressed the group at a luncheon and was quick to note that Kentucky's young farmer program continues to shine with national recognition and an impressive level of participation in its programs and events.
"Our young farmer program is alive and well," Haney said. "We have made a national presence. What we do is amazing."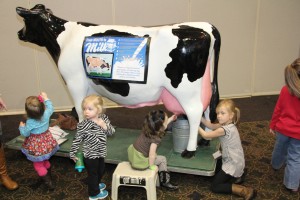 He was referencing the fact that in seven of the past nine years Kentucky has had either the winner or runner-up in the national young farmer achievement program, plus consistently has finalists in the Discussion Meet and "Excellence in Agriculture" programs.
Chris and Rebekah Pierce of Pulaski County won this year's national young farmer achievement award.
Keynote speaker at the closing luncheon was State Representative Wilson Stone, a long-time Farm Bureau leader in Allen County. He told the young farmers that after many years of farming and various degrees of public service, he'd like to offer some advice. He went on to advocate family, devotion to farming, church, public service and to "be an encouragement to those around you."
"Find your place to be involved in your community," Stone added. "Make a difference in your community."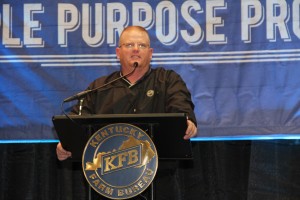 As for farming, he said: "Make sure your farming operation is secure so you can provide for your family."
Stone is well known as a champion of education, having served for many years on his local school board and also working with the Kentucky School Board. He urged the audience to support their schools.
"Nothing is more important to the vitality of rural communities than its schools," he said.
Stone had kind words for Farm Bureau.
""I'm so proud of Farm Bureau for many reasons, but one is that they are willing to step into other rural issues besides agriculture. They are interested in all issues that impact rural life."
The conference offered a good variety of workshops, including one for children. Other topics included agriculture advocacy, emerging technologies, policy development, ag economic update and two choices aimed at the farm wives – self defense and time management strategies.
The agriculture advocacy workshop was handled by Andrew Walmsley, AFBF's Director of Congressional Relations. He spoke about the need for farmers to speak up on the GMO-food safety issue.
"There's a realization that we have to do a better job of communicating to consumers," he said.
To illustrate that point, Walmsley showed a video of "man-on-the-street" interviews at a California farmers market. People were asked "Do you avoid GMOs?" followed by "What is a GMO?"
The typical response was "yes" but then the person could not articulate what a GMO is. One young lady said a GMO was "some kind of corn that's contaminated."
None of the respondents (there were around 8 people shown) in the video knew what GMO stood for, and only one had an accurate explanation of a GMO.
The bottom line was that consumers think GMO products are harmful, but don't really know anything about the issue.
AFBF has useful information for agriculture advocates on its web site under "GMO answers."
The Young Farmer Summer Outing is set for July 10-11 in Pikeville.
Tagged Post Topics Include: AFBF, Alan Hubble, Allen County, Andrew Walmsley, Bowling Green, Chris Pierce, Congressional Relations, Discussion Meet, Excellence in Agriculture, GMO, Kentucky School Board, Lincoln County, Mark Haney, Pike County, Pikeville, Pulaski County, Rebekah Pierce, Safety, Wilson Stone, Young Farmer Conference